Day Twenty-Three (July 21st):
Here it is. The last full day of the ILE.
This is one of the hardest days for everyone. It means packing suitcases and praying they aren't weighted down by too many souvenirs, cleaning apartments and more importantly starting to say a few goodbyes.
Today serves as the final free day for the students. There is no mandatory wake up time or trips during the day (though we do plan something special for the evening and night). All of the students decided to make a communal breakfast for each other in one dorm and created a beautiful feast.
From there, both students and staff split off. Our counselor Casey had lunch with a friend in Galway, while our bus driver Brian had a well deserved day in. Most of the students went into Galway to see the art festival or do shopping. Nancy in particular enjoyed the festival and used the opportunity to do more thrift shopping.
By five p.m., students had to sign in and stay on the Gort na Coiribe campus until it was time for the final dinner, lovingly referred to as our banquet. For the banquet, we went to a local restaurant in a hotel. The options were fish and chips, curry or pasta and we all had a lovely, lovely meal. By the time the dessert samplers came out, the students had concocted a plan. No one can agree on who inspired decision to pretend it was counselor Michael's birthday, but somehow the students pulled it off. The restaurant staff came out with a candle in Mike's dessert and the restaurant was roused into a ringing chorus of "Happy Birthday".
It was, of course, not actually Michael's date of birth. But that didn't matter to the students as they played one final prank on us.
We got on the bus for a final scenic drive around Galway and down towards Salthill and the coast. The famous ILE bus dance parties were put to shame as we blasted our favorite hits and bumped around town.
After we returned to Gort na Coiribe, the counselors set up the final activity of the ILE. Casey and Taryn created some amazing slideshows and video montages of all of their collected photos. The room was misty eyed even as we laughed at the shenanigans of Joe and Clare heel-kicking, and Anna dancing everywhere we went. We spent around two hours reliving the highlights of ILE18 as the students snuggled under blankets and on pillows. The end of the trip is so bittersweet.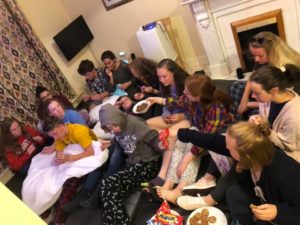 When we fly out of Dublin, we tend to leave at the crack of dawn but since we fly out of Shannon tomorrow, students had the time to get some well-earned shut eye after our concluding events. This was the time for some very last minute packing jobs and a final scrub of the apartments.
There was also no curfew tonight, so students could hang out in each other's common rooms until whenever they chose to. We recommended getting to bed at a reasonable hour to prepare for the early day tomorrow. Tomorrow will be another long day, but one filled with happiness and memories too.
Since there were only a few photo opportunities today, here are some past ILE18 bloopers for your viewing pleasure. Family and friends, eventually there will be an ILE18 dropbox with all of these videos and photos available to you to download. Don't fret!
1. A group photo with Anna and her beau Conor:
2. Taryn giving Anna a piggyback ride:
3. Joe spills his fries on Taryn's foot:
4. The photographer's process:
5. The counselors with TK heads: