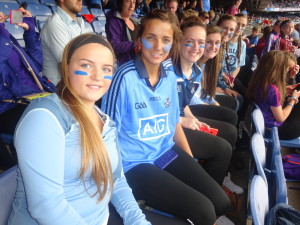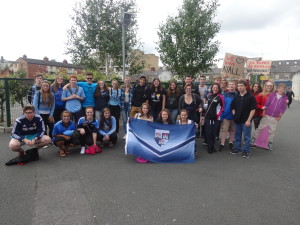 On Sunday, the #ILE15 students were ecstatic to find out they would have an opportunity to lie in until 1 PM if they wanted. They Irish Life Experience Team keep the students very busy, so it was nice for the students to relax in the morning if they wanted. Eddie, Margaret, Owen, and Robert were the only four to make it to breakfast for half nine. A few others decided to wake up shortly after and head to the Liffey Valley Shopping Center for some java and much needed WiFi at Starbucks.
There was excitement and a good buzz in the air, as the students got ready for the Leinster Finals at Croke Park. The Senior Match was at 2 PM and Dublin and Westmeath would be facing off in the hopes to advance to the All-Ireland Football Final. While many of the students have been persuaded by a few of the ILE's friends that Dublin was the team to root for, there were four Westmeath fans that decided to put their whole heart and soul into supporting the underdogs. Since One Direction boy band member, Niall Horan, is from Westmeath, Johanna, Kent, Molly, and Sheila thought it was apropos to cheer for his county team. They borrowed the ILE's life sized cutout of Niall and even painted his face with the team colors of maroon and white. They also made a sign that said, "We have Niall, so who is really winning?"
The other students bought Dublin flags, jerseys, and plaits to show their pride for the capital's team. Many even donned shades of blue paint on their faces for the Big Smoke. There was a lot of rivalry going into Croker, as the students have really embraced the GAA culture. With chants of Westmeath (Clap, Clap…), Up the Dubs, and Come on Ye Boys in Blue, the energy was undeniable.
Before the game started, the ILE students said goodbye to Scones for a few days. The students were sad to see her go, but she will rejoin the group in Galway. The ILE also had a few surprise guests join the group. Our Ryan, who is from Our Tom's (Angie's brother) band and Patrick, who is Alice's brother came along to join in the fun.
The nerves that were beginning to roll down off Hill 16 quickly dissipated, and the game soon fizzled out after the first half. In fact, there were only four scores in the final 28 minutes of play. Dublin set their sights on an All-Ireland quarter-final; Westmeath began to plan for a Round 4 qualifier and their own shot at a place in the last eight. After 70 minutes and blitz battling Westmeath, Dublin clinched their 10th title of 11 seasons with a score of 19 to 6. "Dublin are the kings of Leinster," said Rebecca. "Even though the game wasn't too suspenseful, it was an amazing atmosphere and one of my favorite things we have done yet," said Kelton. Josey said that Gaelic football games are 100x better than American football games.
Another surprise was when Johanna, Kent, and Molly got their picture taken with the Sportsfile newspaper holding up the life size cut out of Niall. Hopefully, they will make the front page this week. #Celebrities.
After hearing the Dublin celebratory speeches and some popular Dublin songs of Molly Malone and Rare Old Time, the ILE exited out of Croke Park and made their way back to the bus. They made sure to take lots of pictures enroute.
Once back at King's Hospital, the ILE went to dinner for a delicious meal of chicken or fish, potatoes, and vegetables. Our Miley was thrilled, because they even had his favorite for dessert-jelly donuts. After three jelly donuts and some powdered sugar in his beard, Miley exclaimed this was his most favorite day yet!
The #ILE15 Talent Show was next on the agenda. There were some amazing performances from drama groups and the students were very impressed with the Staff's skit. Robert said he couldn't wait to put his video up of the staff on every social media site he had with hashtags galore. Alice tinkled the ivories, Evan read a poem, John played the guitar, and Margaret showed off some of her flexible moves on the dance floor. We also had performances from Casey's Advanced Irish Dancers (Clare, Molly, and Sheila) to One Direction's-Best Song Ever and the Rump Shakers-a lip syncing/dance battle that was absolutely hilarious. We were all blown away by Mike's stellar dance moves when he started throwing shapes and booting shaking on the floor. Where did that come from? Not to mention, there were some amazing singers. Angie and Robert sang a duet of Tell Me Ma, Laura sang Frozen, Siobhan sang Valerie, Josey sang Gunpowder on Lead, while Julia sang the Bird Song. The ILE Staff was blown away by the students. They are so talented!
The ILE concluded the evening with some announcements, preparing their laundry, and getting ready for their last class day tomorrow.