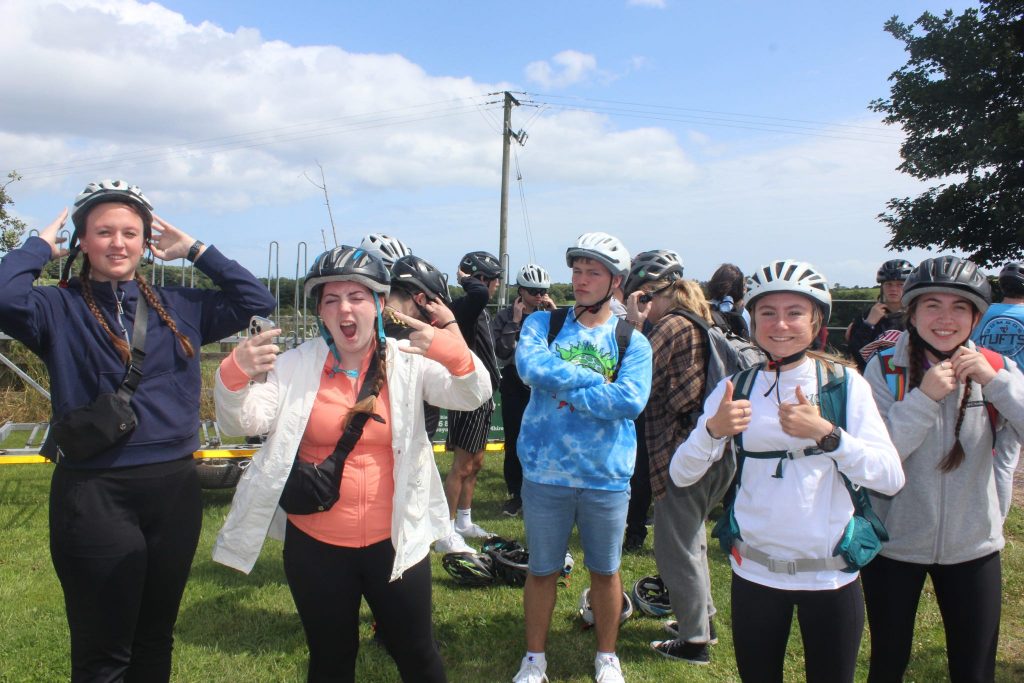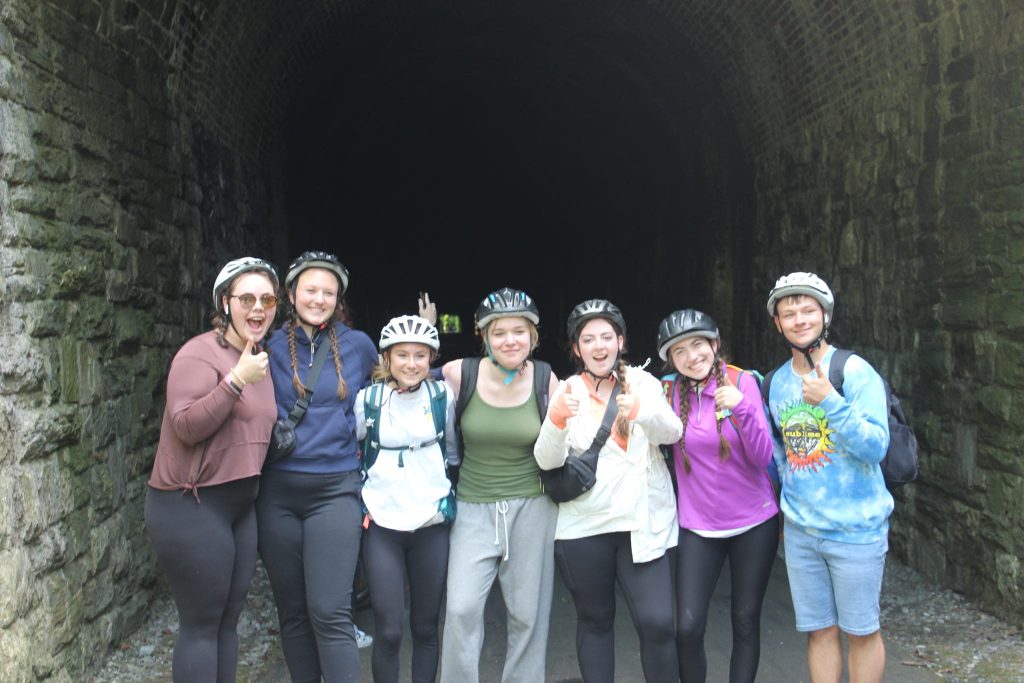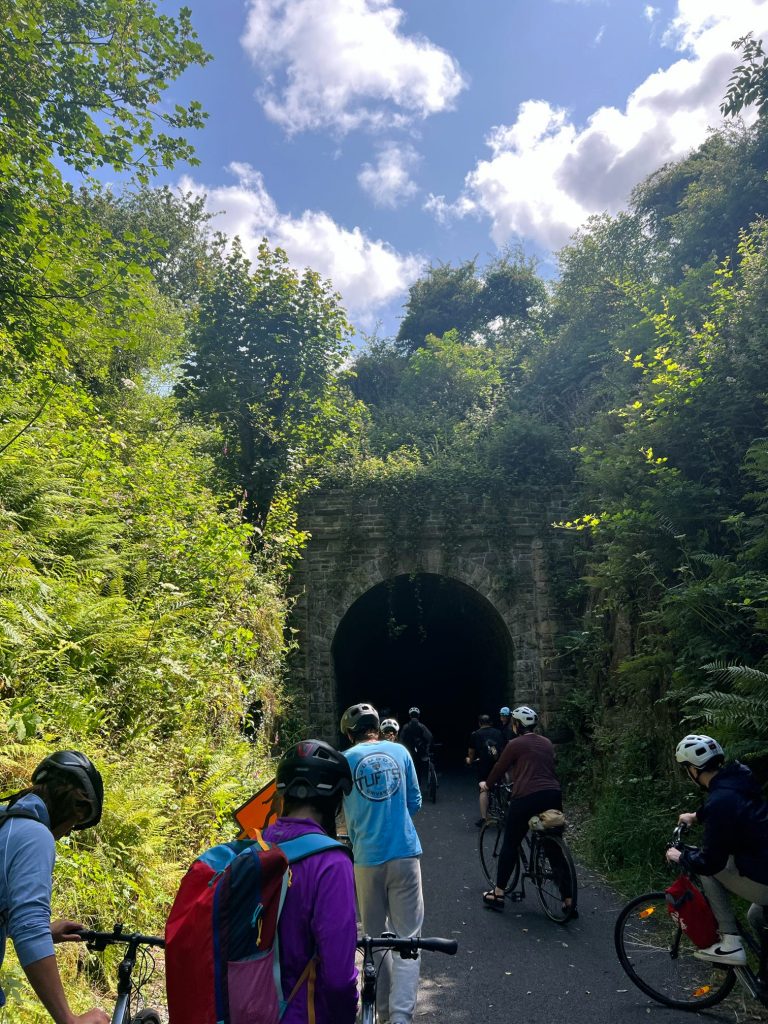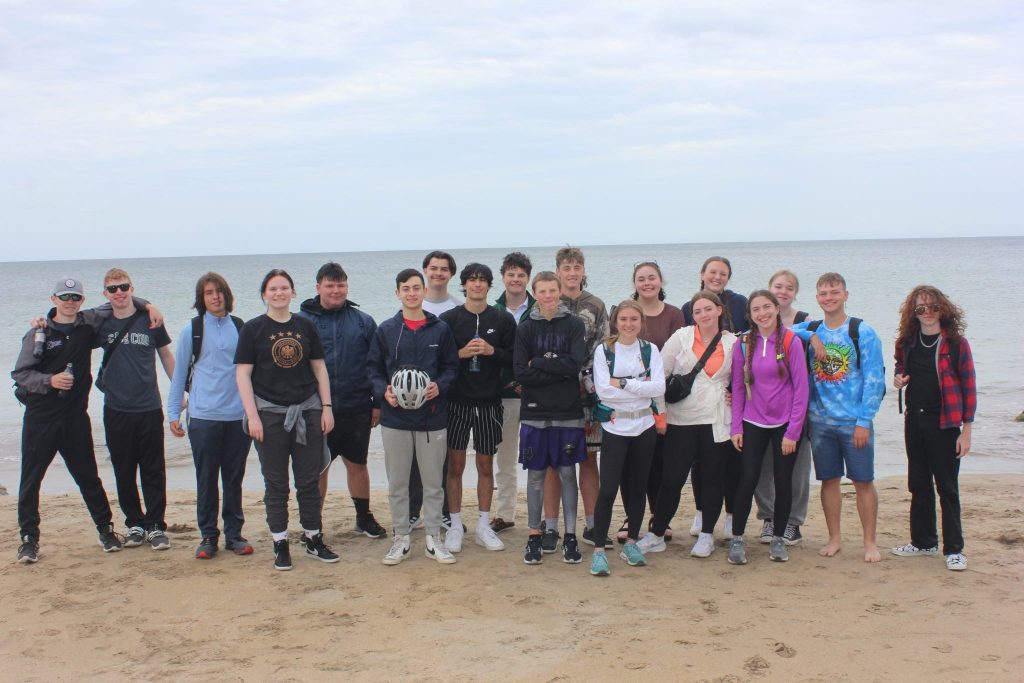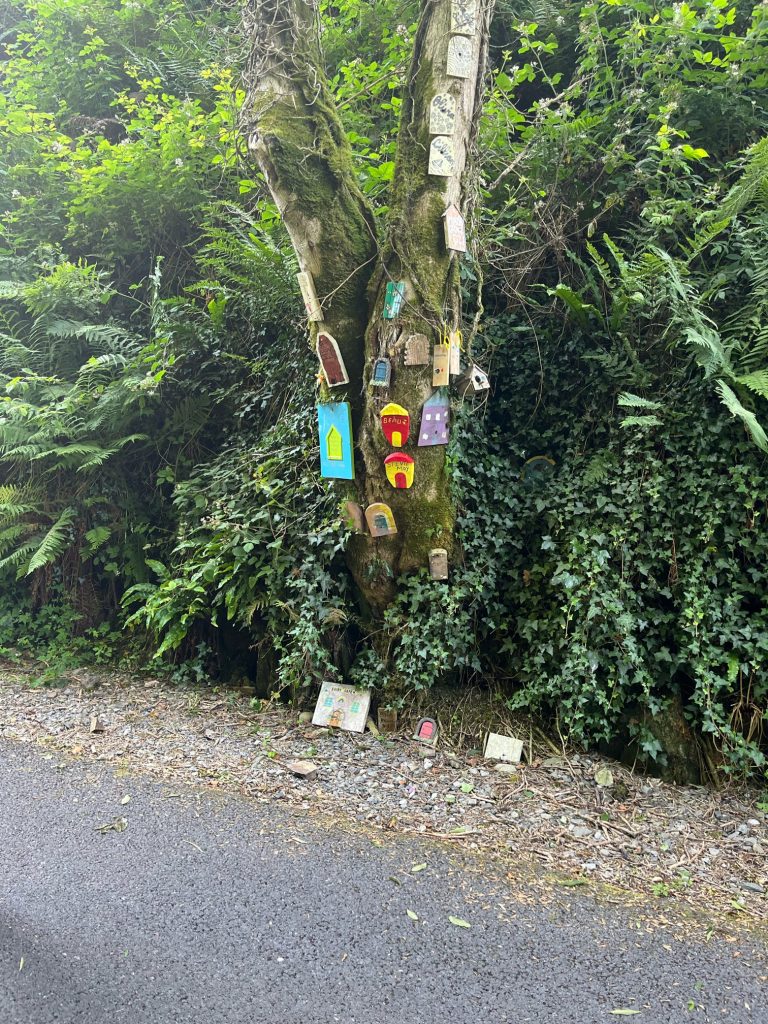 It was a wheelie fun day today! Everyone woke up to have a delicious breakfast courtesy of our favorite Newtown lunch ladies, then had a fantastic string of lessons from the wonderful Mark and Kaylee. Mark taught everyone a bit about the introduction to Christianity in Ireland and The Troubles in Northern Ireland, which certainly opened up everyone's eyes. Dennis said, "They're fun, they're always fun! I love Mark." (Mark's classes, not The Troubles. Those were not fun). 
For dinner (which we have at 1), we had cheese pizza, salad, some wonderful soup, and brown bread. The popular consensus was that the Irish make much better pizza than the Americans, and that the soup in Ireland is the BEST. 
Next, everyone was SO excited to take another bus ride! We all jumped into the bus and jammed out to various songs (thanks, Clare and Carlos!) before arriving in Durrow, a sweet little village in County Laois. We were graced with spectacular weather–warm sunshine, a gentle breeze, sweetly singing birds…a perfect day for a lovely 6-mile bike ride, and a perfect forecast for what was supposed to be rain. 
Everyone all got to meet the iconic  Garvin from Dungarvin, who passed out bikes (and helmets, don't worry!) and set us off on our merry way.  
First we rode down this lovely scenic road onto the Deise Greenway (known as "Rails to Trails" in the US), and onto a bridge with Garvin in lead. He had a sheaf of laminated photographs for each stop we made, explaining various tidbits of curious history along the way. He took us to a bridge that was bombed while a train was going over it, a moss and fern covered tunnel full of fairy doors, the old train station, and a little cottage overlooking the ocean…with a gruesome backstory.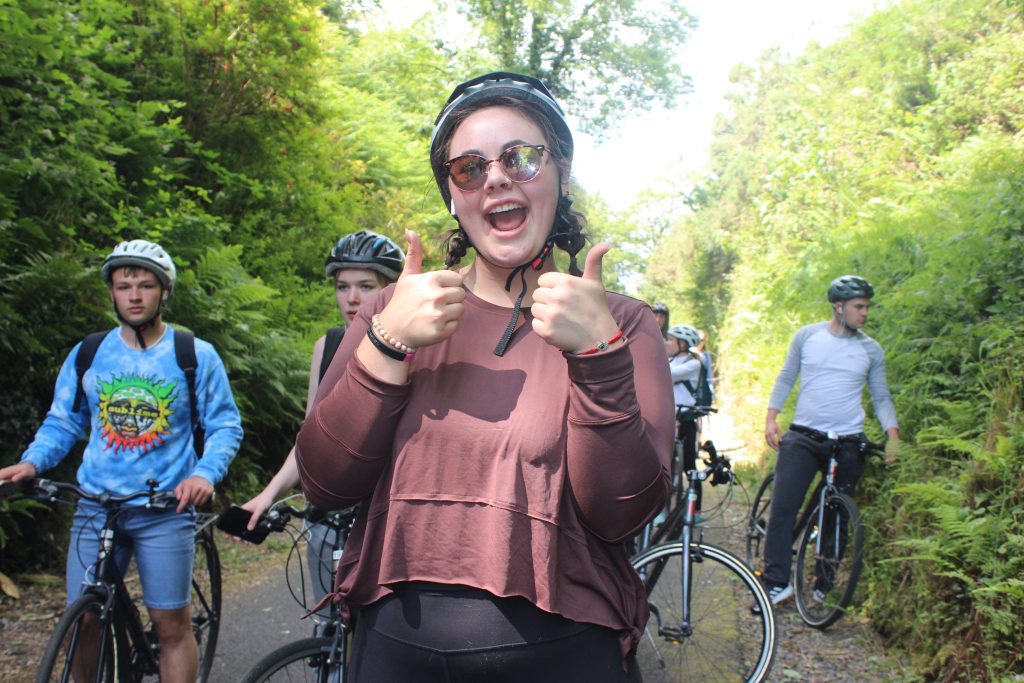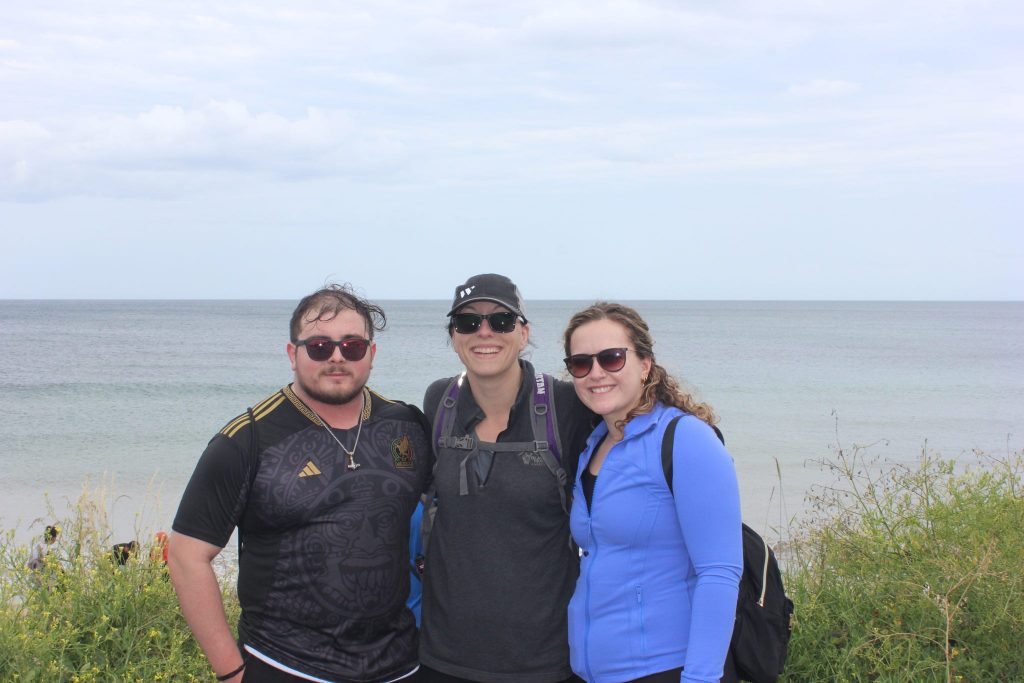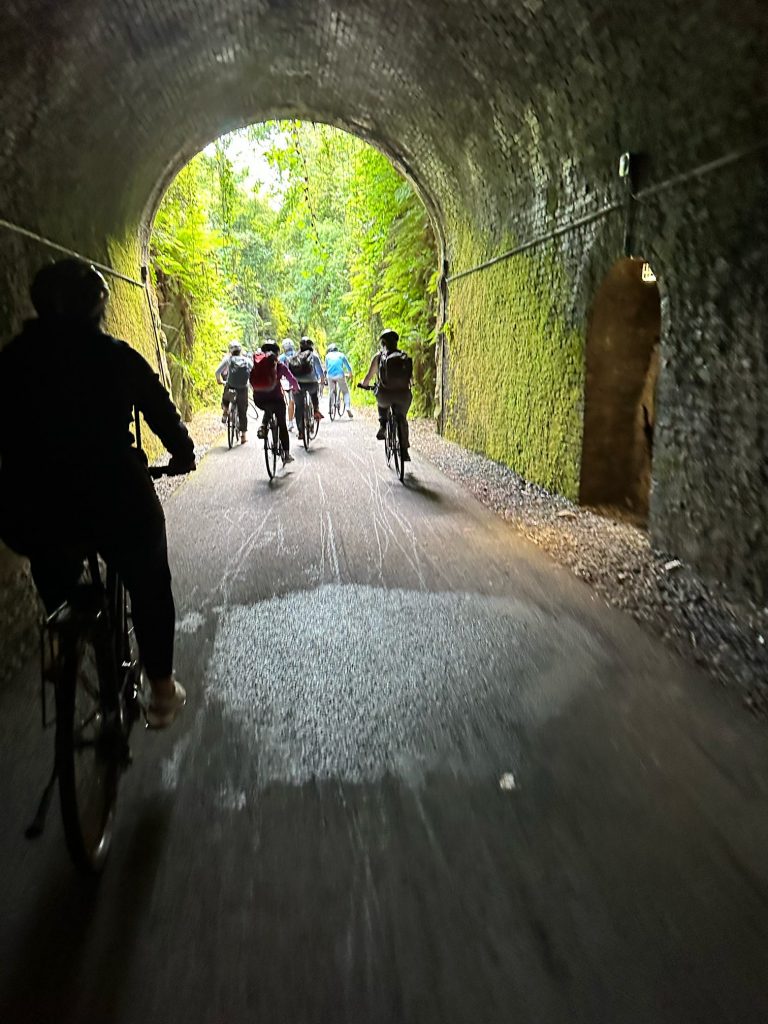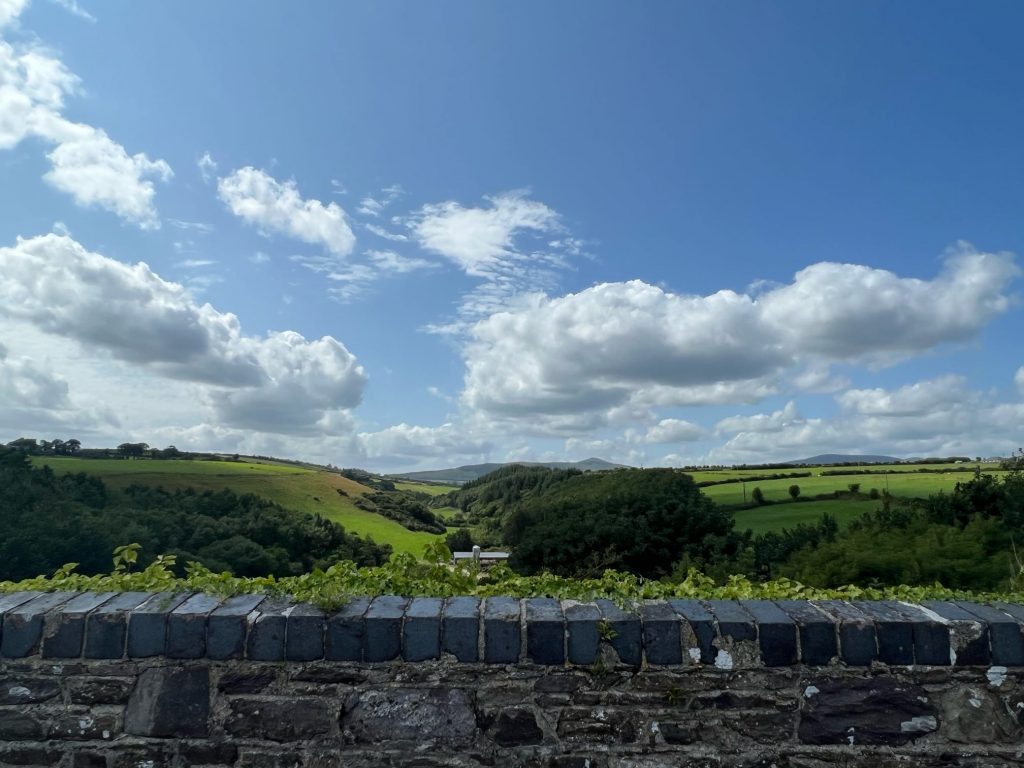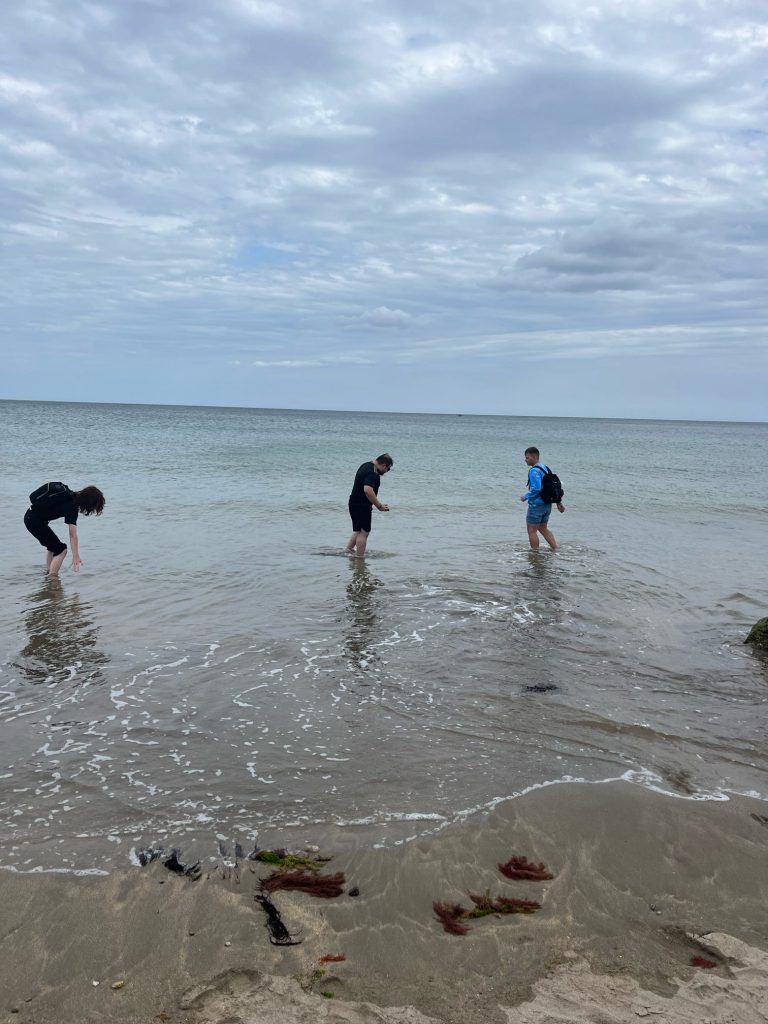 Apparently, two girls about 90 years ago were heading to Mass on their pony cart and were worried they would be late, so, even though the train was coming down the tracks, the girls convinced the lady who owned the cottage to let them through right before the train got there. As soon as they went through, the train hit the pony head-on, and the poor pony's head came right off. The girls were fine, but the cottage was forever more remembered as the place that beheaded a pony. 
Anyways, after that cheery story, the coast was in sight!!! Garvin sadly left us at this point, but we all headed to the beach. It was so very lovely! It was Maddie's first time at the coast, and she fell in love. Paul Boyle even jumped in and swam! Lydia thought the coast was amazing, and said that she just loves the beach so much! And how she thought it was so nice to all kind of bond together more through the bike ride. Taegen just said that his butt hurt. 
Some people also went up to a little shop and bought ice creams before heading back to Dungarvin, where Garvin would be picking up our bikes, and our wonderful bus driver, Anthony, would be picking us up. Everyone was impressed at the beautiful Greenway, and no one looked disappointed that we rode 6 miles. 
After a few shut-eyes, we arrived back in Newtown, where the dear lunch ladies made us some really fantastic tea–burgers, chips (naturally), salad, and bakewell tart. They even gave us blue and red napkins. Happy 4th of July Eve! 
Finally, we had some fantastic Drama and Dance classes. We seriously can't wait for these creative music videos! 
At 11:30, the students headed into their dorms to fall sound asleep–everyone is a little tire-some, but it still was another wheelie fun day on the ILE!