Day 6 (July 4th):
This was a very busy day! We started with an early breakfast full of protein-y goodness to sustain us for the day ahead.
Our jam-packed schedule started at Charles Fort which is a 17th Century star-shaped fort on Kinsale harbor. Charles Fort was designed to be almost twice as large as it is today, but unfortunately the money ran out (as it does for so many public works). The star-shape was integral to defense as it allowed the men inhabiting the fort to send down volleys from all angles onto attackers.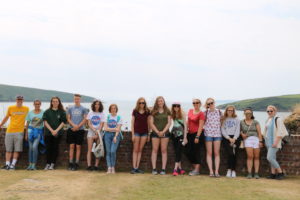 Our guide took us through the history of the fort from its creation to its recent, alleged hauntings. He also dispelled some common myths about the use of boiling oil during sieges: he said that inhabitants of the fort were more likely throw rocks rather than waste precious oil. He also told us about some spooky photos taken by tourists at the fort a few years ago, photos that contained an unknown lady in white. As the story goes, the lady in white was a newly married bride whose husband was on her wedding day. She threw herself from the walls of the fort in grief. Of course, no one believes in ghosts any more…Or do we??
Shockingly, Allison and Emily appear to have seen the lady in white! See for yourselves…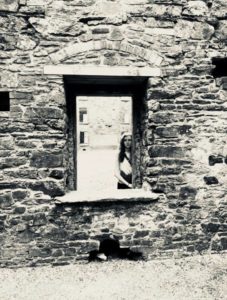 After touring the fort and taking some fun photos, we went down into the town of Kinsale with packed lunches and the students ate on the steps leading down to the quay and attempted to cause a seagull insurrection.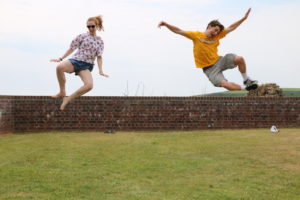 After wandering around Kinsale for an hour, we got back on the bus to head into Cork City. The students had free time to shop and eat dinner. Nancy was particularly interested in thrift shopping and the staff helped direct her to a few.
After everyone had eaten, the bus was loaded back up and we headed back to Waterford. The staff hit the ground running when we got back in so we could decorate the movie theatre for the Fourth and order enough pizzas for everyone! Everyone tucked into pizza — someone really liked mushrooms and those of us who didn't had to dodge around them on every slice! — and chips while we watched a movie.
After the movie, armed with glowsticks and patriotic tricolor balloons, we ran into the soccer field to set off little sparkler sticks (which were very safe and well supervised)! Much fun was had by all.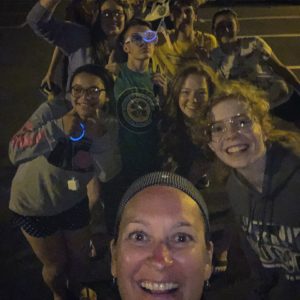 Happy Fourth of July!