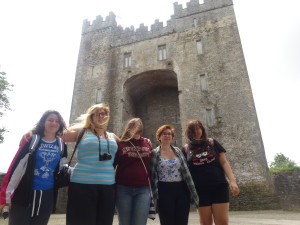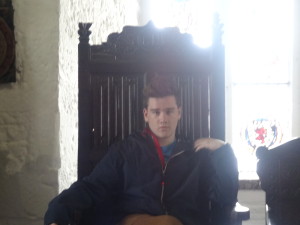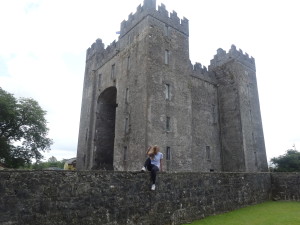 We're onto our last lag of our trip: Galway! The students were very busy this morning packing up their things and cleaning their apartments in Killarney. At half nine, all the students were on the bus, ready for yet another adventure. Many of the students were up late the night before doing dishes and having late night chats, so the bus ride consisted mostly of rest.
Our first stop of the day was in the lovely town of Adare. This tiny town has small Irish cottages with thatch rooftops scattered around the perimeter. The town is also well known for its brilliant heritage center. They students were elated to discover their Coat of Arms and the meanings behind their surnames. Clare M. and Robert said that it was so interesting to find more about their surnames and their Irish heritage. The students spent an hour snapping photos of the quaint cottages and exploring the heritage center.
The student boarded the bus yet again and started onto Bunratty Castle in County Clare (The namesake of Clare B. and Clare M.). This Medieval castle is one of the most authentic and complete castles in Ireland. Built in 1425, the castle has furniture and tapestries that make it truly come to life. The giant tortois shells in the castle kitchen reminded Laura of the Ninja Turtles. Liam and Mike climbed all the way to the roof of the castle and shouted, "I'm King of the world!" Rebecca described Bunratty Castle as "very cool."
After the castle tour, the students were allowed to explore the small folk village that surrounds the castle. Decorated with small period houses and vintage shops, the students had more than enough to keep them intrigued. Johanna particularly enjoyed seeing real live chickens walking around the village.
After a few hours at Bunratty, the students departed to the last city on our trip. Drum roll please…, Galway! The students were ecstatic with the student housing accommodations at Gort na Coiribe. John was especially pumped to have his own room! The students went to the Dunnes Grocery Store across the street and bought groceries for their apartments. Mary Elizabeth said, "This trip has really helped me learn how to manage money. This will make college a lot easier!"
The students nestled into their homes for the week and cooked their dinners. Pizza, chicken nuggets, and pancakes seem to be favorites among the group. A few students opted to walk into town for a nice dinner out. It was another beautiful day in Ireland!