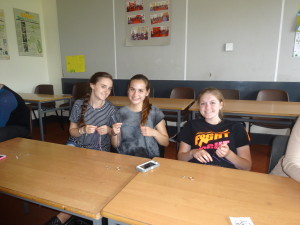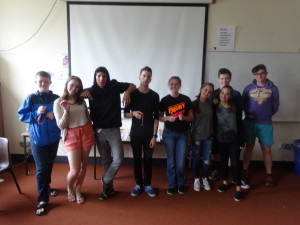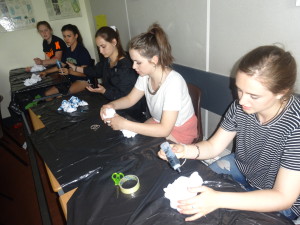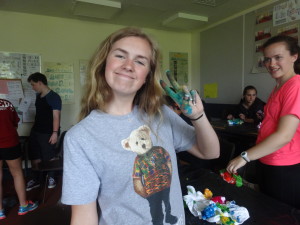 Today was a regular class day for the students who were grateful to get a little structure back in their day. In Irish class the students got the translation of their names. This year we have a surprising amount of students with Irish names, so there was not a huge difference for most students. Beircheart definitely had the most fun saying his name and was so close (ish!).
The students had Irish History next and studied the plantations in Ireland. This is usually a topic that is skipped in Irish History, but as the students learned this was the foundation for a lot of the modern Irish History and difficult relations with the English. Laura commented that the English weren't very nice! Definitely a sentiment that was popular back in the 1600's, but the students were reminded that the Irish and English no longer have such a troublesome relationship.
With Irish American History, the students were focussing on how difficult it was for the first lot of Irish to emigrate to and settle in the US. All in all it was a day where the students learned that the Irish had a pretty tough history. Though they are still pretty, optimistic (Yes that comma is there on purpose.), and cheerful with having such a heavy past.
With it being the student's first full day, Taryn took them on a tour of the extensive grounds that is King's Hospital (Our location in Dublin.). There are tennis courts, common rooms, basketball courts, soccer pitches, football pitches, a swimming pool, and a piano-plenty to keep the students occupied during their free time. Definitely no need to be crossing the road to Starbucks, the shopping centre and the WiFi. Convincing Ben and Amelia was pretty tough though, #InternetisLife. Siobhan was another student that couldn't exist knowing Top Shop was mere steps away. First chance she got, she brought Olivia with her to see if this Top Shop had anything different to the last one!
During free time there were also some workshops that the counselors were running. Counselor Kate started with Irish Key Chains. There were some pretty exceptional ones being produced. Margaret definitely has a talent for it, although we told her not to quit the day job, there may not be much of a profit in producing key chains. She was able to make probably the nicest bracelet Taryn had ever been given by a student with her crazy new skills.
Miles was the next counselor to run a workshop, ILE T-Shirt Tye Dye. Kelly had an extremely creative idea for the class to use a different item of clothing instead of a t-shirt (I'm unable to name it in case the recipient is reading this.). We won't say they didn't turn out as expected but we might say that the ILE staff got a giggle out of the end result. Robert's t-shirt was probably a highlight. It turned out exactly as he wanted it. The only laugh the ILE Staff got here was at Robert's surprise that he was such a talented tye-dyer! We can't move on from the tye-dye class without also mentioning Liam's masterpiece, well-maybe not so much a masterpiece as master-mess, but it's the intention that counts right?
After dinner it was time for drama and dance. The enthusiasm for drama was a little low. We really don't think the students understand just how great a prize there is for this! If they did, the competitive streak in Sheila and Josey would definitely be out. We can't suppress their enthusiasm for dance though. Of course Clare, Molly, and Sheila are in their element, but the students that have never Irish danced before love it just as much. Partially because Aiden's dance skills are so entertaining to us all. We think his legs have a mind of their own. We will carry out a few experiments to test this theory and keep you up to date.
To cap off the day, Counselor Kate organized an intense game of Kick Ball. Kent and Taryn were team captains and even Casey and Miles joined in the fun. It was a battle back and forth for quite awhile. Owen had some great plays for Taryn's team and Johanna definitely proved herself to have excellent coordination with a few clutch catches. Eddie and Kelton were newbies to the game, but quickly learned the rules and proved to be dominating forces. It was until Taryn promised her team Crunchies, when they eventually pulled away and won the game by one point. #Bribery. Being more competitive than most of the students, Kent had to stifle his anger with a few calls he thought were unfair by the ref. Nevertheless, the students shook hands, said good game, and had a blast.