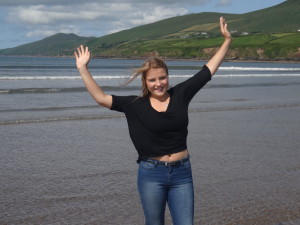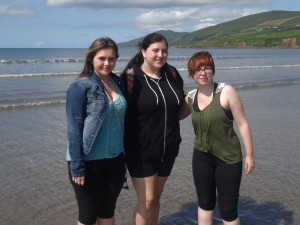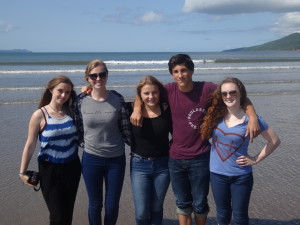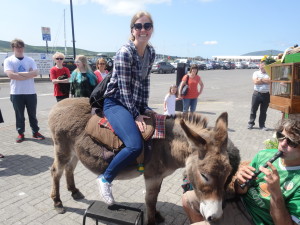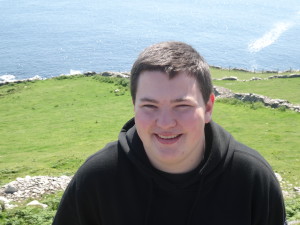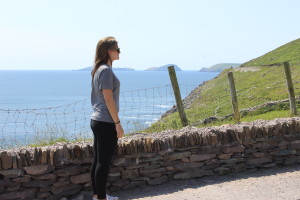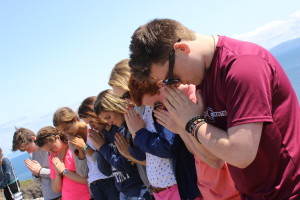 Waking up in a new town is always exciting, especially now that classes are done. The kids woke up on Wednesday and made their own breakfasts and packed lunches for the day trip to the Dingle Peninsula. The students loaded the bus at half nine.
The weather was beautiful. They started the day out with a stop at Inch Beach. It was a great way to start the day bright an early. Clare, Cate, Liam, Mike, and Miles decided to take a dip in the ocean! It was a bit cold, but they were excited to swim. "Wooooohhhhh," yelled Liam as he ran past everyone in his swim trunks and blinding white torso into the ocean. The rest followed and stayed in the water for as long as they could.
Josey was excited to find some seashells for souvenirs. Casey and Taryn drew #ILE15 and took jumping pictures in the sand and Evan took a stroll.
The students gathered back on the bus after purchasing a few Twisters and continued their drive along the peninsula. The sights were spectacular. It was unbelievable. The sun and the water were similar to the tropics. "The water is so blue," said Laura. The students stopped along the way to take pictures. Kelly had asked if we could stop along the Dingle Peninsula to recreate a picture of where her grandpa had stood years before. We were able to locate the spot-right in from of the Blasket Islands. It was a moment Kelly will never forget. Very touching and Kelly felt a little closer to her grandfather, Pots, who passed away earlier this year.
The ILE eventually made it to Dingle Town and the first thing they saw when they got off the bus was an ass! This cute little donkey, two dogs, and a man were sitting on the corner. "I want a picture on the donkey," said Clare M. She paid €1 and got on the donkey! The man told stories and was a very friendly guy. The students definitely were amused.
The students spent a few hours exploring the town and ate their packed lunches. Many students have been buying souvenirs for their family members, so it was fun to see their purchases.
Once the ILE got back to the apartments, the students made dinner and went and explored the town of Killarney. Eddie, James, and Robert played hurling outside. They were having a blast teaching each other tricks.
Another top notch day. The students are all becoming very close and as Molly said…, "Some of these people feel like my best friends and I have only known them for three weeks!" The ILE is truly magical.