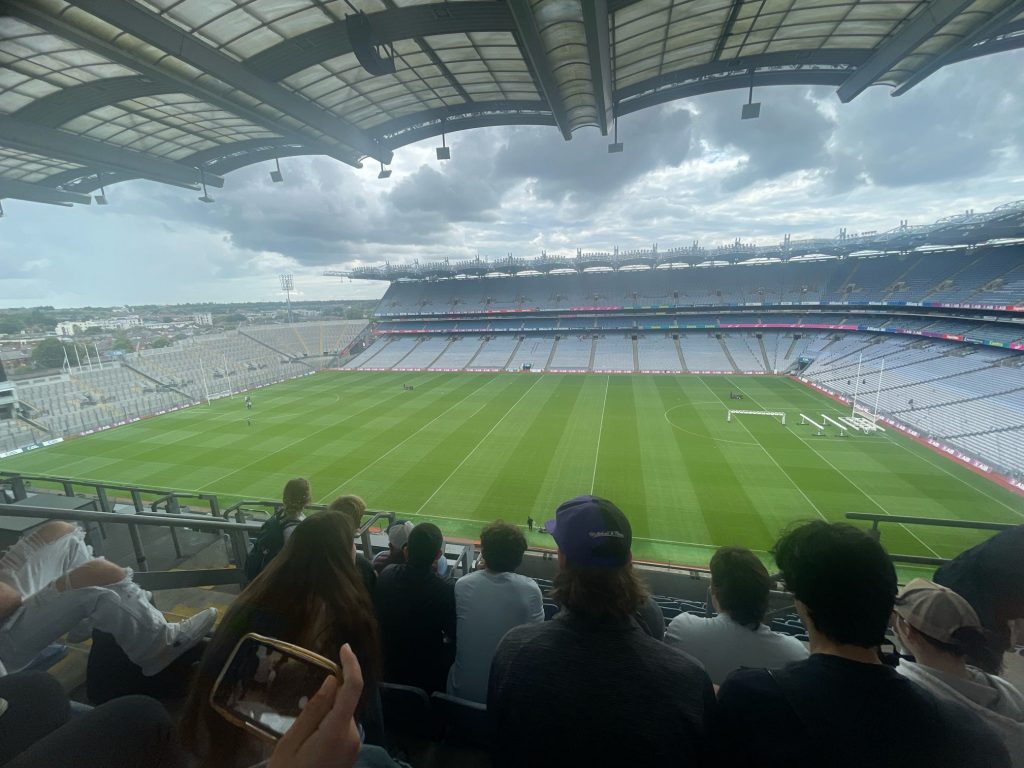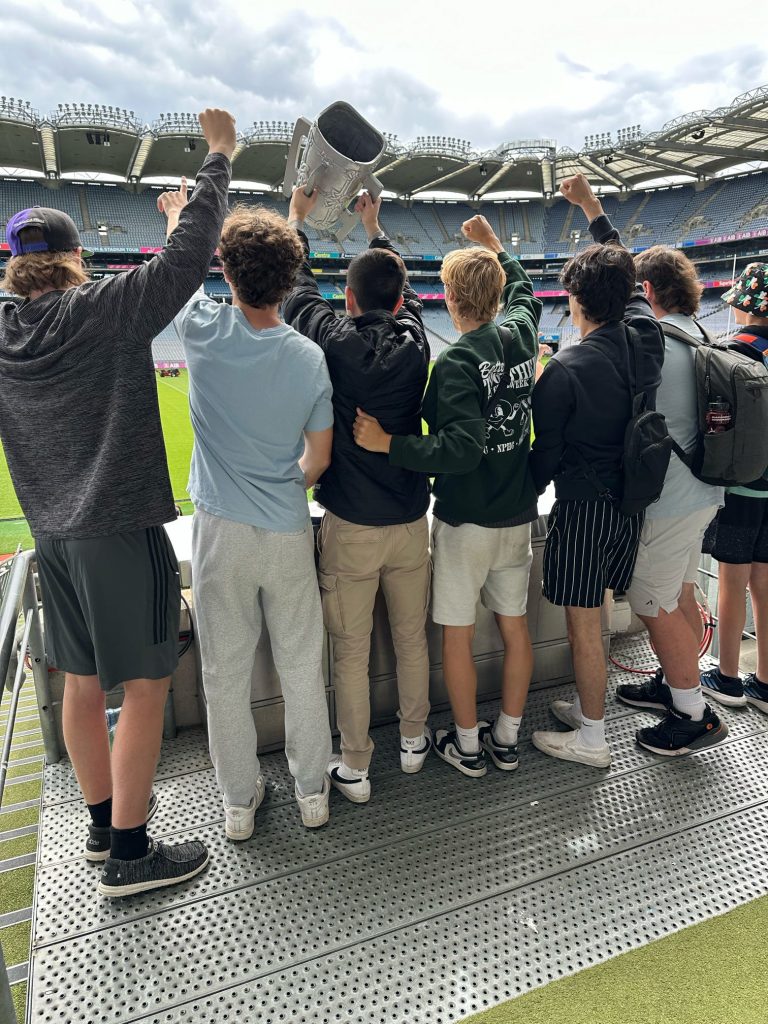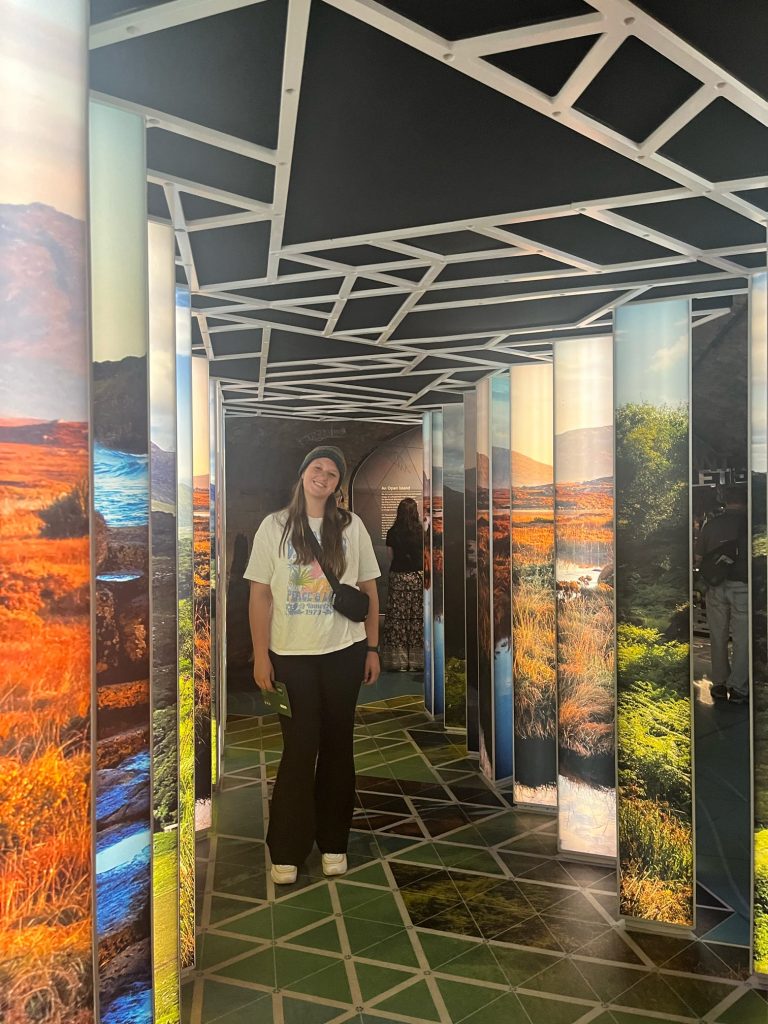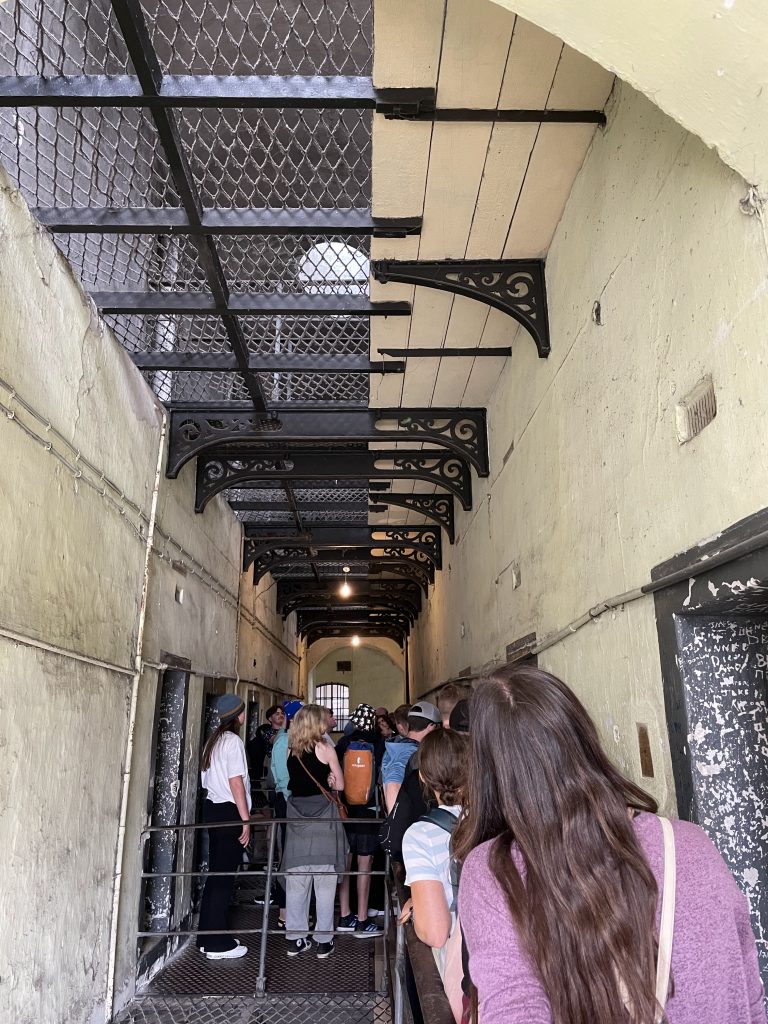 Hello hello hello!! What a lovely morning today, with the sky slowly and undecidedly shifting between fine shades of grays and blues. After a wonderful breakfast of a chocolate croissant, cereal, yogurt, and fruit, everyone scrambled onto the bus for another fantastic tour day!
Our first stop was the Croke Park GAA Museum ('GAA' is the abbreviation for 'Gaelic Athletic Association'), which is where we went to watch the camogie and hurling matches 2 days ago! However, instead of being jostled around by 80,000 people, we practically had this entire stadium to ourselves. Our wonderful tour guide took us through the whole behind-the-scenes process that goes on before each match. We got to go into the locker rooms (where we were also able to see all the different county jerseys), the practice rooms, and even walk out onto the field from the exit ramp, complete with cheering noises and a trophy! 
We also learned a bit about the history of Croke Park, like that it is named after the Archbishop Thomas Croke, who was pivotal to the GAA.
We had our lunch out front of the park (although the seagulls and pigeons that crowded around us certainly wished they were eating it instead), then headed to an epic place…the EPIC Irish immigration museum. EPIC was voted as 'Europe's Best Tourist Attraction' in 2019, 2020, and 2021!!! This makes sense, as it is an incredible place. The students had about an hour and a half to complete the self-guided tour, where we strolled through dimly-lit rooms full of interactive exhibits and short films. 
Strider and Orion were particularly captivated by the museum, and both agreed that the allotted 1.5 hours was much too short of a time frame to explore. However, we still had one more tour to go! Ireland's majesty seems to never cease. 
Next up–Kilmainham Gaol, a former prison that held renowned leaders of the 1916 Easter Rising. This is a very eye-opening tour, as you walk past the cells of Padraig Pearse, Éamonn de Valera, and Robert Emmet, or stand in the place where 14 men were killed by gunfire. Everyone left with a new understanding for Ireland's richly layered history, and perhaps with a curious sort of sadness at such awfulness–it really is a morbidly fascinating tour. 
On the way back, our bus driver stopped by at Phoenix Park, where the President of Ireland lives. We stopped at the Papal Cross, where the Pope gave Mass to 1.5 million people in 1979. We then also took a short walk to see the American Ambassador's house. The boys greatly enjoyed frolicking in the butterfly and ragwort-strewn field on the way. 
Finally, we arrived back home for tea! We also had dance and drama to finish off the evening.
Goodnight to all!! We are just loving Ireland still!