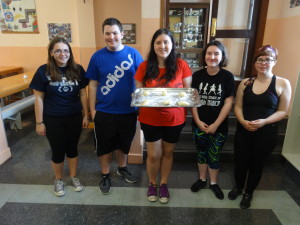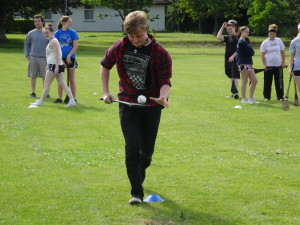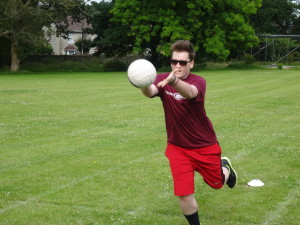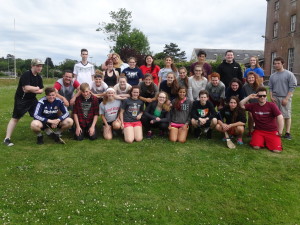 Today started off like most days with breakfast at half eight and class at nine. Professor Miles talked today about Irish influence in America and how that has affected the American presidency. Did you know that half of US presidents have ancestors from the Emerald Isle? Kennedy, Reagan, and even our current president, Obama, all claim Irish roots. There was even on American born Irish president, Eamon de Valera who was born in Manhattan, NY and came to be the 3rd president of Ireland in 1921.
The students had their first Irish History and Gaelic classes today with Shona, who is an Irish native from County Cork. Ali, Clare, Ali, Kate, Kelly, and Molly shared the Irish words and phrases they learned, such as Hello: "Dia Duit" (GEE-ah Gwitch) literally meaning "God be with you" and the response to that, "Dias Muiras Duit" (GEE-as Mwear-ah Gwitch) meaning "God and Mary be with you."
Not only does Shona teach these classes, but she is also the best scone make ever! The other staff even call her Scones instead of Shona. Almost all of the students signed up for Scones' scones workshop. No flour fight this year though! Weird. Must have been because Counsellor Casey was on office duty and not there to plant the idea.
The scones turned out fabulously and were served with dinner. They were delicious with a little Irish butter. Earlier in the day most of the students opted out of the cafeteria lunch and were permitted to go into town for lunch. The lunch ladies were a bit baffled by their absence. The weather was glorious today for walking about town and for a few sports. There is a large green field in front of the Newtown School campus that we used for the Irish Sports Workshop, in which all students were required to participate.
Waterford local and GAA (Gaelic Athletic Association) Coach, Mark, came for a visit to teach the students about hurling and Gaelic football. They were able to test their hand at working the hurly stick and ball with relay drills. At one point they held a Puc Fada competition, to see who could hit the ball the furthest. Ireland has this contest once a year and the winner receives €5,000. Each student was allowed three attempts. The furthest ball for the ladies was hit by Clare M. The furthest lad to hit the ball was Kelton.
The Irish teams (Comparable to our NFL for example.) are not paid. They play because they love it and have extreme pride for their county. Mark was explaining how each neighborhood would have their own pitch to play and practice on-all starting at very young ages, and would compete against the other neighborhoods in their county-making their way up to the final that would permit them to represent their county in matches against other counties. The roots in the team are strong and the pride extreme!
After dinner we had Drama and Dance. In Drama each team was asked to create a limerick about their historical figure, the winning team included Aiden, Ali, Carly, Clare M., Evan, Kelton, and Molly who wrote a witty limerick about WB Yeats-they won an Irish literature book.
After Drama was Irish Dance class. The students are continuing to master the skips and sevens, which are the basic first movements a dancer learns. We took turns two at a time dancing our skips down the room. The students are working on a large group dance, choreographed by Counsellor Casey, which is arranged first in a circle and eventually ends in one long line for a grand finale jig step at the end. Some of the students are quite good! Others admit their lack of grace, but are still happy to learn what they can. Before class ended Clare B, Molly, Sheila, and Counsellor Casey demonstrated their hard shoe steps. Each danced one step of the treble jig. Some of the girls were saying how this dance class is only making them more excited about seeing Riverdance when we're in Dublin. We hope to master our group dance and record it so you guys can see what we've learned!
This evening the students were given a choice between having free time on campus or watching a movie in the lecture hall, "The Commitments." Most chose the movie and some even went to bed before it was over. We have a lot of fun on ILE, it's important to get sleep while you have the chance!