August 2018 - Irish Life Experience
The End of the Line
Day Twenty-Four/Airport Day (July 22nd):
As it was our final airport day, we had another early day. I am happy and proud to report that the students left their apartments in near perfect condition, which was certainly an improvement over some past years. We rolled our luggage cases out bleary-eyed. Everyone said goodbye to Paige early because she was heading out to see her uncle.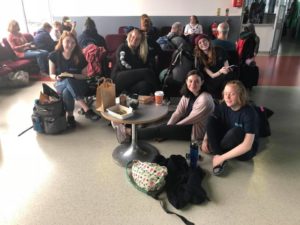 Our ride to Shannon airport was just long enough to catch a few extra winks. However, once we arrived it was time to bid farewell to Brian, which was only the beginning of the ensuing waterworks. We checked our bags in and said goodbye to Allison and Emily who had their parents pick them up at Shannon and then stay on longer in Ireland.
We made it through security with very little hassle and we were very early. All of us grabbed snacks or waters for the plane. Joe took a small catnap on the chairs. We got to board slightly earlier than expected and settled in for a nice long plane ride.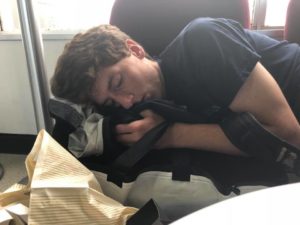 The landing in Boston could not have been smoother. After gathering up luggage we said even more goodbyes. Counselors then escorted students with connecting flights to their respective terminals or stayed with students waiting to be picked up.
Thank you, parents and guardians, for trusting us with your kids. From all of the staff, we are so privileged to have been able to teach them and learn from them. We hope they all made memories that will last a lifetime and fostered a connection to this amazing country.
Until the next time we meet. May the road rise to meet you — ILE18 out! Remember to keep an eye out for our Dropbox, and we will be notifying you once it is created via email.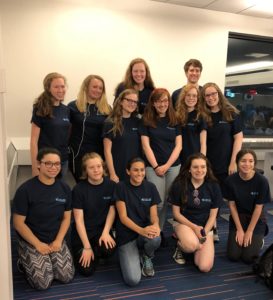 Wrapping Up
Day Twenty-Three (July 21st):
Here it is. The last full day of the ILE.
This is one of the hardest days for everyone. It means packing suitcases and praying they aren't weighted down by too many souvenirs, cleaning apartments and more importantly starting to say a few goodbyes.
Today serves as the final free day for the students. There is no mandatory wake up time or trips during the day (though we do plan something special for the evening and night). All of the students decided to make a communal breakfast for each other in one dorm and created a beautiful feast.
From there, both students and staff split off. Our counselor Casey had lunch with a friend in Galway, while our bus driver Brian had a well deserved day in. Most of the students went into Galway to see the art festival or do shopping. Nancy in particular enjoyed the festival and used the opportunity to do more thrift shopping.
By five p.m., students had to sign in and stay on the Gort na Coiribe campus until it was time for the final dinner, lovingly referred to as our banquet. For the banquet, we went to a local restaurant in a hotel. The options were fish and chips, curry or pasta and we all had a lovely, lovely meal. By the time the dessert samplers came out, the students had concocted a plan. No one can agree on who inspired decision to pretend it was counselor Michael's birthday, but somehow the students pulled it off. The restaurant staff came out with a candle in Mike's dessert and the restaurant was roused into a ringing chorus of "Happy Birthday".
It was, of course, not actually Michael's date of birth. But that didn't matter to the students as they played one final prank on us.
We got on the bus for a final scenic drive around Galway and down towards Salthill and the coast. The famous ILE bus dance parties were put to shame as we blasted our favorite hits and bumped around town.
After we returned to Gort na Coiribe, the counselors set up the final activity of the ILE. Casey and Taryn created some amazing slideshows and video montages of all of their collected photos. The room was misty eyed even as we laughed at the shenanigans of Joe and Clare heel-kicking, and Anna dancing everywhere we went. We spent around two hours reliving the highlights of ILE18 as the students snuggled under blankets and on pillows. The end of the trip is so bittersweet.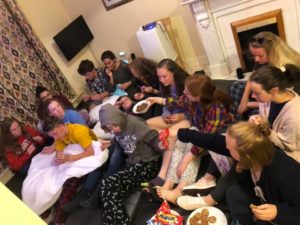 When we fly out of Dublin, we tend to leave at the crack of dawn but since we fly out of Shannon tomorrow, students had the time to get some well-earned shut eye after our concluding events. This was the time for some very last minute packing jobs and a final scrub of the apartments.
There was also no curfew tonight, so students could hang out in each other's common rooms until whenever they chose to. We recommended getting to bed at a reasonable hour to prepare for the early day tomorrow. Tomorrow will be another long day, but one filled with happiness and memories too.
Since there were only a few photo opportunities today, here are some past ILE18 bloopers for your viewing pleasure. Family and friends, eventually there will be an ILE18 dropbox with all of these videos and photos available to you to download. Don't fret!
1. A group photo with Anna and her beau Conor:
2. Taryn giving Anna a piggyback ride:
3. Joe spills his fries on Taryn's foot:
4. The photographer's process:
5. The counselors with TK heads: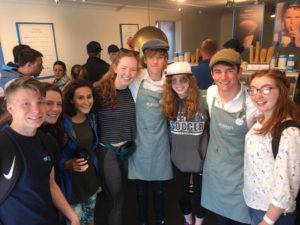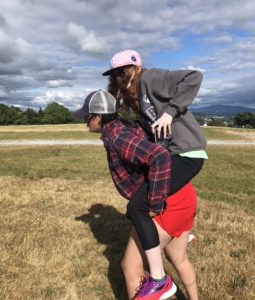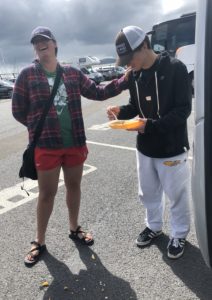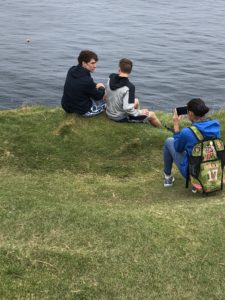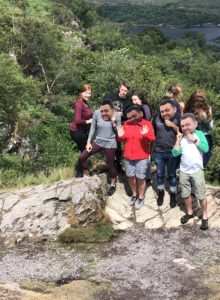 Here We Go Again!
Day Twenty-Two (July 20th):
The end is nigh. Time creeps closer. Our staff tries very hard to keep the fact that the trip is nearing end from the forefront of our students' minds — and the best way to do that is to keep them busy!
We had yet another early start today and a few breakfasts were snuck onto the bus despite the watchful eye of Brian. Some dozed as we drove through the countryside to catch our ferry in Rossaveal, because today we're heading out to the Aran Islands. More specifically, Inis Mor (or Inishmore).
The drive out to Rossaveal was cloudy and grey but still gorgeous. We were able to catch an earlier ferry than we had planned, but the boat ride over was choppy and took a bit longer than usual. The students pretty much split in half, with one group on the top out in the fresh air and the others down below. It grizzled rain but once we reached the island the sun peeked back out.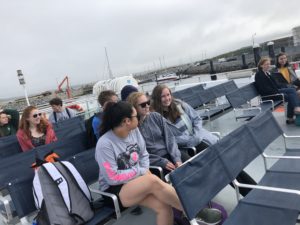 Since Inis Mor is only 8.7 miles long, the ILE staff traditionally rent bikes for the students to spend the day traversing the island independently. Of course, if students don't feel up to a day of bike riding, we also hire a hop on/hop off bus run by local residents that takes students around the island.
The big things to see in Inis Mor are Dun Aonghasa (or Dun Aengus), the Aran sweater market, the Seven Churches and the heritage park at Dun Eochla. On the coast, there are beautiful — albeit cold — beaches and a few seal colonies. Scattered across the island are hundreds of miles of winding, ancient stone walls. The main exports from the island are cattle and crops like potatoes. Despite the massive deposits of exposed limestone that is technically an extension of the Burren, the island is well known for its biodiversity — especially its plantlife.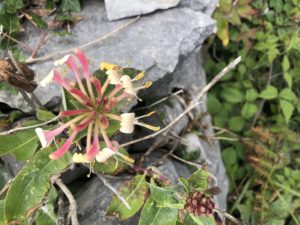 Typically, students bike around the island until they find a likely spot for hiking or swimming and then relax for a few hours too. The hop on bus route typically takes you around the island from the bike rental up to Dun Aonghasa for a few hours of hiking, then down around the coast to the seal colony and the churches.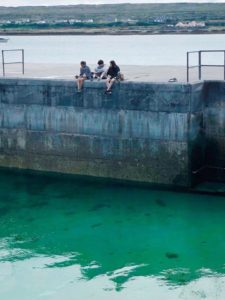 A few of our kids did brave the freezing water for a quick dip! Others bought souvenirs and jewelry from the local shops. The wee cafes on Inis Mor are amazing, so everyone had full bellies at some point in the day, but everyone was exhausted from biking, hiking, swimming and walking by the end. We re-grouped outside the bike rental at 4:30 to return our vehicles and catch the ferry. Sitting on the dock wall, students showed each other what they had bought and traded stories.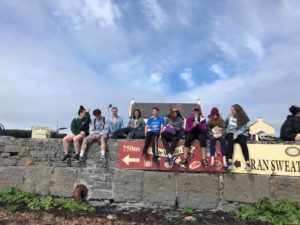 But the day was far from over. After our return to Galway, students cooked their own dinners and prepared to head off to see Mamma Mia! Here We Go Again with the staff! The majority of students had seen the first Mamma Mia!, but a few were a little lost. I heard a lot of whispered questions back and forth, like, "Why are all of these people singing?" and "What is he wearing?" Students enjoyed popcorn, small quarts of Ben & Jerry's and other typical movie foods.
Not to give out too many spoilers, but the movie ends with a real tear jerker which prompted a lot of bawling on the bus ride home along with an impromptu karaoke party. Angie sang a few hits with the kids, using her glittery sandal as a microphone.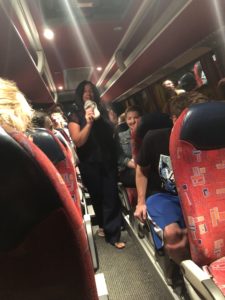 It was a bit of an emotional day over all, but a wonderful one. We are so lucky to have such an amazing group! Our solemn facades are beginning to crack as we reach the end of our journey.