July 2018 - Page 2 of 2 - Irish Life Experience
A Giant of a Day
Day 11 (July 9th):
Despite a brutally early wake up and a short breakfast, today is universally regarded as one of the most exciting and rewarding days of the trip. This is a day that almost becomes spiritual as students immerse themselves in the beauty of nature. Our destinations today were in Northern Ireland!
Our drive was around three and a half hours long and we drove up past Belfast to stop briefly at the ruins of Dunluce Castle for the kids to observe what the old archaeological site looked like. From there, we could look out at the horizon and see the Giant's Causeway. After taking a few pictures, we boarded the bus again and went to Carrick-a-Rede first.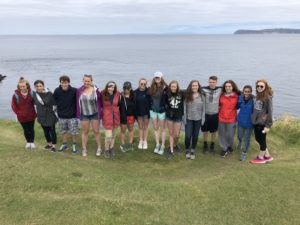 The famous rope bridge here links the mainland of Ireland to the tiny island of Carrickarede, inhabited by gulls and fulmar. To get to it, we walked along a narrow paved path that hugged the curve of the coast, bordered on each side with wildflowers and grasses. The sea air was deeply refreshing. All of our students crossed the rope bridge with no anxieties at all! Once on the island, we had a lot of free time to sit and contemplate. The students gave us all small heart attacks by posing near the edges but there were no mishaps and they were under our eagle-eyed gazes the entire time.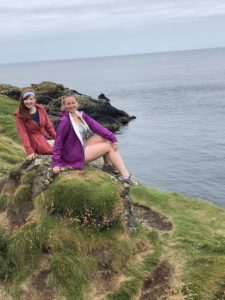 After experiencing this, Clare and Kennedy are excited to see the essentially similar but uniquely striking Cliffs of Moher in the upcoming weeks!
I think after the bridge and the associated hike, the students could have fallen asleep quite happily and called it a day — I know I did — but we persevered! Next up was the famous Giant's Causeway. Legend has it that Irish hero Fionn mac Cool created the bridge to fight a giant in Scotland, but upon realizing his size Fionn ran back along the Causeway so fast it disintegrated under his feet.
The students walked the very long and scenic route down the coast and rocky beach. It was a very windy day, but almost perfect weather for the hiking we were doing. Some students hopped from rock to rock to get all the best photos and others were content to sit and relax. We spent extra time here to explore the tide pools and rock formations. After the hard work the students put in to get to the Causeway, they had more than earned some time to themselves.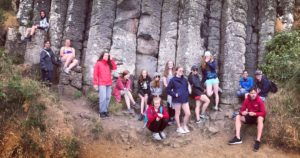 Once finished, we went down to Ballycastle for dinner and relaxing! The staff and a few students ate food from Morton's Fish & Chips which was absolutely incredible. Students enjoyed the sunshine and hung out around the beach. Ballycastle has an atmosphere of complete relaxation and it was a fitting end for a long and strenuous day. We got back to King's Hospital around 10 pm and the students went straight to bed.
As did the staff.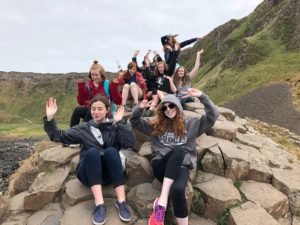 Howth It Going
Day 10 (July 8th):
Breakfast today went as breakfasts usually do — featuring the hurried munching of cereal, grumbles about the other students staying here who had eaten all of the waffles, and students slowly rousing themselves from their stupors. Once sufficiently awake, it was time to get going.
We hopped on our bus to head into the heart of Dublin for our first real taste of the city. A recent addition to the cultural scene is the EPIC or the Irish Emigration Museum. This museum is almost entirely digital and the very first of its kind. Upon arrival, we were given museum "passports" that we could stamp at all twenty exhibitions. Some of these exhibits included topics like music, dance, sports and literature.
I had multiple students come up to me and comment that they could have spent at least four hours here and were disappointed that they only had a little under two. Each room was laid out in some unique fashion and furnished with screens, lights, painted patterns on the floors or sculptures. One of the rooms that fascinated the kids the most was the "whispering library", where pages could be flipped on interactive screens and narrators would whisper pieces of literature written by Irish authors. It was quite atmospheric.
Anya said that her favorite part was the display on art and culture but wished that there was more to it. I think that might have been Angie's favorite as well, as she discovered that her Orla Kiely handbag was actually on display in the museum!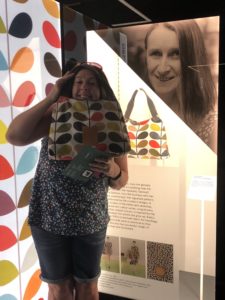 At the very end, there was a large display where students could type and send virtual postcards to friends and family, and I believe many students took advantage of this opportunity! Unfortunately, the separate exhibit on families and genealogy was closed. However, students will have an opportunity later in the week for a workshop with Miles and Taryn.
On our walk back to the bus for the next leg of our jaunt, we walked past the replica of the ship Jeanie Johnston, which was originally used to transport emigrants as the students learned in their history lessons.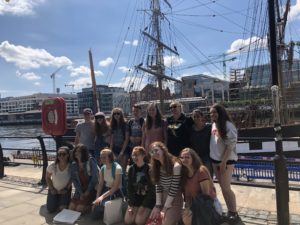 Safely ensconced on the bus once more, our next trip was for a brisk walk around the Howth peninsula. Howth is a beautiful fishing town on the coast outside of the Dublin and students took their lunches out on the grass in the sunshine, admiring the many dogs walking past. We walked about four plus (probably even more…) kilometres — just taking in the fresh sea breeze and the gorgeous views. As a group, we spent a few extra minutes within the town itself to take in the glorious weather before heading back into Dublin.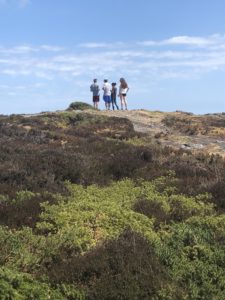 The group returned to Croke Park for the second time — but this time to visit the museum! The students watched a short montage of scenes about the preparation required for all GAA games, which I think really gave students an appreciation of the stadium. We got to access some of the top-most seats, along with a private box and a dressing room. All the while, students gossiped cheerfully with our guide about the recent performances of teams they'd heard of.
The students also tried their hand at a series of interactive games that were meant to be modeled after the physical requirements of GAA games to the glee of all involved. After we finished up, students caught the tail end of the televised rematch between Kilkenny and Galway with the eventual triumph of Galway.
We returned to King's Hospital for dinner, drama and dance. Not much is new on that front — the food remains excellent, the kids remain engaged and enthusiastic. Everyone can't wait to present their final performances.
Hey, Big Spender
Day Nine (July 7th):
The moment we have all been waiting for is here. The long anticipated results of the staff thrift shopping contest. Out of respect for all the contests I am not posting pictures unless threatened with pain of death. Needless to say, humiliation was the end goal. To explain more — the staff are taking part in a very serious competition amongst ourselves to gain points in the #ILE18 Staff Olympics. For this particular challenge, we all drew someone's name out of a hat and then had a budget of €20.
And that is all I have to say on the subject.
….alright fine. Here it is: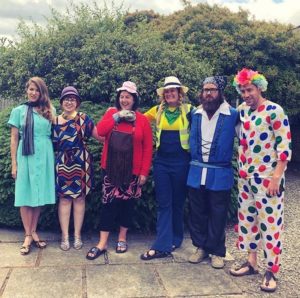 So we went down to breakfast thoroughly embarrassed. The students unanimously voted that Mike had worn his costume best. He did his best to teach through the cackles and that he did. That's all anyone can do.
But on a more serious note, all of our fantastic teachers have been very concerned with delivering as much intersectional information on Ireland as they can. From sociopolitical forces to pop culture and language, our teachers are helping students make connections that they will always be able to use for the rest of their lives. Every monument and museum we go to, the students ask intelligent questions or pipe up with a, "Hey, we learned about that in class!" We could not be more proud of the way they have been representing this program.
After covering more history and literature, the students had a nice intellectually stimulating morning followed up by a free day at the Liffey Valley Shopping Centre filled with supporting the local economy. Clare, Paige and Kennedy walked back into the office dying of laughter after their jaunt because Clare had tried charcoal ice cream and was still covered in both the remains of that and bright red lipstick.
In drama, we began to contemplate our big final presentations. The students work among their groups to create some sort of short skit or play on a famous figure from Irish history. They are graded along the categories of historical accuracy, creativity and teamwork. The presentations will be due on our last night in Dublin on July 13th.
…
"I like when you quote me. Put this in the blog." — Allison
Sticking it to the Man
Day 8 (July 6th):
Everyone has successfully packed and loaded their things onto the bus and left the dorm rooms nigh on spotless. Bidding a fond farewell to Waterford and Newtown, we move on to new adventures. En route to Dublin we visited the Irish National Heritage Park at Ferrycarrig. We were greeted by our guide dressed in a very cool reinterpretation of Medieval men's clothing, complete with what looked like a hand forged neck piece. We ate a quick lunch before we joined him for a short audio visual presentation that ran through a few basics of ancient Irish history. The video mostly focused on recent excavations of tombs like the Knowth passage tomb.
After that, our guide told us that a boxer was filming a segment for a TV show here at the park and we got to walk past the organized chaos of it. But that was hardly the most interesting part of the hour and a half tour. We began in the Stone Age with replicas of prehistoric houses used by the first ancient hunter gatherers. From there we moved into the Bronze Age with its mysterious stone circles and fulacht fiadh (a cooking pit in the ground). We actually got to try some ham cooked in the fulacht fiadh in the way archaeologists have theorized the ancients used to. That's the sort of job I aspire towards — a research historian who cooks.
Poor Mike was thoroughly abused today by staff and students alike. He is deathly afraid of stickers, so of course Taryn whipped a few sheets out from her backpack. Almost all of the students managed to affix one to his back before he noticed. Clare was especially canny and pretended to fall and catch herself in order to place hers.
We also saw a replica of a ring fort and small monastic village. There was such an attention to detail everywhere we looked. Our tour ended with a replica of a Viking Longhouse and ship. We actually ended up running into a family that Angie was familiar with through the local newspapers: their grandson Connor is an up and coming soccer and hurling champion. It was very fun to have met someone so coincidentally.
Boarding the bus, we buckled in for another long drive (or nap for some). After arriving at King's Hospital, we had just enough time to allocate rooms before a hearty dinner. During drama and dance, the students continued to work on their music videos for Irish songs and on practicing the Haymaker's Jig.
King's Hospital is significantly larger than Newtown and it serves as the summer school for lots of students studying abroad. Already the students have been hanging out with other groups and socializing. Hopefully, there will also be a disco during the time we are here!
Now that we have access to more reliable WiFi, please continue checking the blog for photos and updates!
Cashel Me Outside
Day 7 (July 5th):
This was probably one of our earliest days so far as we boarded the bus at 8:30. Our first destination was Cahir Castle which is the ancestral home of the Butler family. Cahir overlooks the River Suir and is encased by thick stone walls from which two cannonballs still protrude. A scene from Braveheart was filmed in Cahir using one of their gates. Another battle scene from the 1981 classic Excalibur was also produced here. Our guide took us around the inner keep and explained how the castle was made and how it came into the hands of the Butler family. Mike took advantage of that segue to inform students that he used to work at a church also owned by the Butlers!
Using the power of language, our tour guide evoked vividly what Medieval life was really like for the highest and lowest ranking members of the household. Our counselor Miles' favorite moment was the explanation of the function of the garderobe and how laundry was held over what can be delicately referred to as the communal toilet. Ammonia produced by the…disintegrating bodily functions would then kill any lice and mites on the clothes and leave them smelling of Chanel No. 2.
More seriously, Cahir is a stunning place. In the great dining chamber, the rack of an extinct Megaloceros or Irish Elk was mounted on the wall, casting looming shadows that really transported the students to another age. We also learned, in a seemingly perfect call back from yesterday, that Cahir was often defended using superheated sands — not boiling oil as we had once thought! Our students seem to be amassing a wealth of knowledge on the defensive strategies of historical forts. To what end, I cannot say.
Students had the opportunity to explore the grounds after the tour had ended and go up into the towers for some fantastic views. There was also an exhibit on the roles of women during Medieval life in Ireland which was very fascinating.
After Cahir Castle, we headed to the Rock of Cashel. The Rock of Castle is located on a promontory that local legends say was uprooted from the nearby hills by the Devil himself and spat out onto the land. The grounds contain a series of Medieval buildings — from the 12th century round tower, High Cross and Romanesque Chapel, 13th century Gothic cathedral, 15th century Castle and the restored Hall of the Vicars Choral. We were guided through the history of each and walked through the walls that held so many past lives. The ancient mural recently uncovered was particularly beautiful.
Once the students had satisfied their insatiable curiosities for knowledge, we went down into the town of Kilkenny. We used Kilkenny castle as our launch point for the rest of the afternoon. The kids had free time in the city to grab dinner and tour the round tower, city hall, and all of the shops and street exhibits.
Nancy was particularly interested in thrift shopping and found a book on Irish politics! Anya found a "no parking" sign and just had to sit in front of it as per her family's tradition. Casey gladly snapped a picture for her.
The roads leading back to Waterford were quiet and traffic free. Students were either gently napping or contemplating packing up because tonight is our last night at Newtown! We made sure to pick up the staff of Newtown some potted flowers in appreciation of all the hard work they did to ensure that our students were happy and well-fed!
We played a game of Taryn's creation called Saran Wrap Surprise for our evening activity and honestly I don't think anyone knows the rules to it. Everyone went to sleep early tonight to brace for a long day tomorrow!
The Fort of July
Day 6 (July 4th):
This was a very busy day! We started with an early breakfast full of protein-y goodness to sustain us for the day ahead.
Our jam-packed schedule started at Charles Fort which is a 17th Century star-shaped fort on Kinsale harbor. Charles Fort was designed to be almost twice as large as it is today, but unfortunately the money ran out (as it does for so many public works). The star-shape was integral to defense as it allowed the men inhabiting the fort to send down volleys from all angles onto attackers.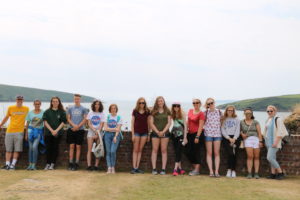 Our guide took us through the history of the fort from its creation to its recent, alleged hauntings. He also dispelled some common myths about the use of boiling oil during sieges: he said that inhabitants of the fort were more likely throw rocks rather than waste precious oil. He also told us about some spooky photos taken by tourists at the fort a few years ago, photos that contained an unknown lady in white. As the story goes, the lady in white was a newly married bride whose husband was on her wedding day. She threw herself from the walls of the fort in grief. Of course, no one believes in ghosts any more…Or do we??
Shockingly, Allison and Emily appear to have seen the lady in white! See for yourselves…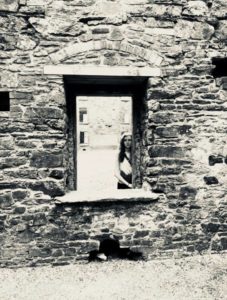 After touring the fort and taking some fun photos, we went down into the town of Kinsale with packed lunches and the students ate on the steps leading down to the quay and attempted to cause a seagull insurrection.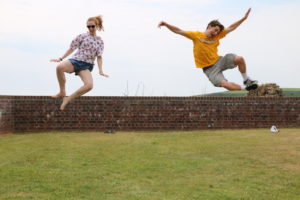 After wandering around Kinsale for an hour, we got back on the bus to head into Cork City. The students had free time to shop and eat dinner. Nancy was particularly interested in thrift shopping and the staff helped direct her to a few.
After everyone had eaten, the bus was loaded back up and we headed back to Waterford. The staff hit the ground running when we got back in so we could decorate the movie theatre for the Fourth and order enough pizzas for everyone! Everyone tucked into pizza — someone really liked mushrooms and those of us who didn't had to dodge around them on every slice! — and chips while we watched a movie.
After the movie, armed with glowsticks and patriotic tricolor balloons, we ran into the soccer field to set off little sparkler sticks (which were very safe and well supervised)! Much fun was had by all.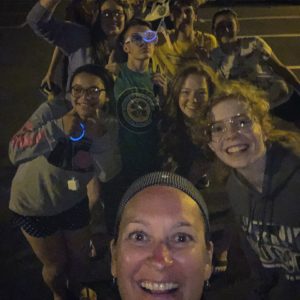 Happy Fourth of July!
Baking You Crazy
Day 5 (July 3rd):
We started off with the fourth day of lessons! Today was more of a laid back day to complement our extremely hectic and fast paced week so far. The sunny weather just will not relent, and students aren't sure if this is a good thing or a bad thing. Allison asked if it was supposed to be this sunny in Ireland and the answer is a resounding "no". Parents, we have both 50 SPF and 30 SPF sunscreen plus cases of water n the office for kids to use and all of them have taken us up on the offer. You might not be able to recognize them through their deep tans when they come home in a month.
Angie covered W.B. Yeats in class and the students discussed and analyzed some of his works. Miles distributed more pearls of wisdom in Irish American History. Mike ran the students through more bits of Gaelic — and the students have a very fun upcoming game of Gaelic twister that I still remember fondly to this day.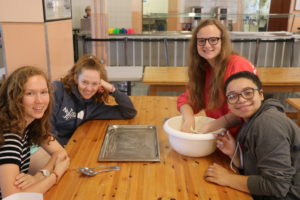 For Taryn's class, we mixed (ha ha) things up a bit and the students made scones for everyone to eat. They had to option to add raisins or chocolate chips, and after dinner the lovely kitchen staff pulled them from the ovens for us! Taryn was a bit worried because some of the batches of dough was a bit runny but they came out a light, perfect golden brown. They were really good and had a great, traditional scone texture.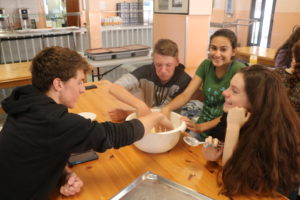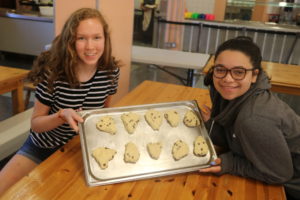 Then before we knew it it was time to break for lunch and then the students had free time in the city of Waterford. For those interested, Casey also offered her Celtic cards workshop. Nancy, Anya, Bella and Mairead all took advantage of this lovely opportunity to unleash their creativity into special creations for friends and family! Casey had loads of stickers, stencils and different papers for the girls to use and their cards came out absolutely lovely.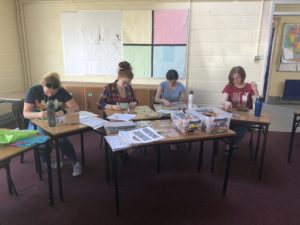 We the staff used today as our opportunity to start planning and shopping for a fun activity we are planning for Dublin involving thriftshopping… While out and about, the staff ran into several students out shopping at Penney's, which is the discount clothing store that is always a hit with the kids!
After dinner, we had drama and dance. Casey began teaching students the complex Haymaker's Jig which utilizes all of the separate elements of dance that the students have learned so far.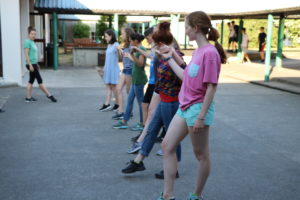 In drama, we are creating student-made-and-directed music videos for some traditional Irish songs including I'll Tell Me Ma, Molly Malone and Wild Rover.
To wrap up the night, Casey held our traditional scavenger hunt in Waterford. The students divided up into four groups and set off for an hour of scavenging. Some of the challenges included finding a business with the same name as a team member, a postcard with a sheep on it, and asking a local to tell them a joke which they had to recite for everyone later.
A straight-faced Nancy provided a very fine example of local wit, "What's hard and pink? A pig with a jackknife."
But in the end, only one team could win the scavenger hunt and that team was Anna, Issie and Kennedy. Congrats, girls! They got bragging rights to match their Waterford flags.
Keep checking our blog, more is coming!
The Chain of Events
Day 4 (July 2nd):
The students had their third day of classes with Angie and Mike and Miles, and because the weather has been so gorgeous for the past few weeks, they were able to sit outside and enjoy the sunshine and breeze for part of it. Students have been saying "Dia duit" to me all day! (Gaelic for "hello"!)
So after covering more Irish American History with a discussion of the Ulster Scots; a reading of some of Frank O'Connor's short stories and a basic introduction to Irish music (with the very traditional instrument known as the kazoo) and language, the students were champing at the bit to go for a bike ride. We hired our cute little sky blue bikes at Durrow and the students bicycled down 12 kilometers — approximately 7 miles — of bike paths that trace the line of the coast down to the town of Dungarven.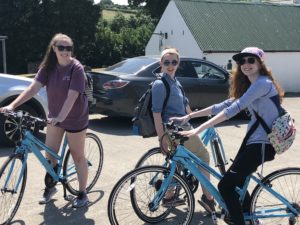 Unfortunately, poor Angie had a bike mishap en route when her chain got stuck in between her spokes but other than that the ride went smoothly. Once in town, the students had some free time to putter around the town for an hour or so and explore the cute shops and cafes, and take in a gorgeous view of the coast. Some of Dungarven's infrastructure was created from stunning basalt and almost every house had flowers in their window baskets. The sea air was refreshing and cool. It is the quintessential little seaside town.
Nancy said that during the bike ride, "the views were breathtaking. We were between these cliffs covered in moss and then suddenly we were in the city again!"

We had a lovely dinner of burgers and fries at Newtown and then it was time for the evening activities. Casey lead the students through another round of the the Walls of Limerick and the basic steps to a jig. The students have been split into three groups for their drama workshops and today we finished and presented some of the limericks they've created on famous Irish people. For your reading pleasure, here they are in all their cheeky glory:
1. There once was a man named Yeats
And his literature was full of taste
He fell in love with Maude Gonna
She says "of you I'm not fond"
Oh dear, what a terrible waste
2. There once was an author named Joyce
His writing was very noice
He drank till he fell
Feck, that boy's goin' to hell
Though he didn't have a choice
(Because alcoholism is a disease. If you or a loved one has a substance abuse problem, please call 018732699)
3.Beckett was an author of sorts
Didn't pimp, got blood on his shorts
Waiting for Godot
Or his prize, ya know?
His talents had no distorts
It would be an understatement to say that students exercised both brain and body today, and rose to the challenge of both! Also, we have achieved WiFi — stay tuned!
Game Faces
Day 3 (July 1st):
If I haven't mentioned before, our group of students is absolutely incredible and despite only having had their introduction to the world of GAA yesterday, today they took to the game at Croke Park like fishes to water!
But before play came work and students sat down for the second day of classes: Irish American history with Miles and the Geography of Ireland with Taryn. Both classes were absolute successes filled with laughs.
We were fortunate enough to score tickets to watch Galway versus Kilkenny. The counselors bought face paints for those so inclined to support their new favorite teams: maroon and white for Galway, and black and yellow for Kilkenny (also fondly known as the "Cats"). All of us boarded the bus to Dublin and even a few of the counselors took gentle naps. We ate a scenic lunch in a park and then headed into the packed stadium. The opening game was Carlow versus West Meath and we arrived just in time for the second half of that game. Our bus driver Tom asked us to cheer for Kilkenny — which is where he's from — but all you could see on the bus was a wave of red and white faces…
I heard several students commenting on how glad they were that they'd done the hurling workshop before going to the game. For those unfamiliar with the spurt of hurling, it's the national sport of Ireland and it's like a very fast mixture of lacrosse, field hockey and rugby. To score, the sliothar (hurling ball) must make it inside the goal or in between the raised posts. We sat as a group in front of a particularly bloodthirsty gang of eight year olds who howled with disdain every time West Meath scored on Carlow.
The game was very energetic, and several sliothar made it over the net to land quite near where we were sitting. Unfortunately, no one managed to catch one. Fortunately, no one got beaned. It was neck and neck for almost the entire match, but then Kilkenny scored twice in a row to end the match in overtime with a tie. Joe asked if we would be able to see the re-match this upcoming Saturday, but unfortunately we will not be able to.
After the game, we went and had dinner at King's Hospital, the boarding school where we will be staying from July 6th to July 13th. For dessert, they serve extremely delicious and memorable jelly donuts and I think the students enjoyed them almost as much as they delighted over the WiFi available. But don't worry, everyone ate their vegetables first!
It was a long day and we headed back to Waterford tired and content. We apologize for the lack of posts and pictures so far, as we are still trying to sort out the WiFi situation.
It's Always Sunny in Glendalough
Airport Day Through Day 2
The first few days of the ILE often blend together due to the different time zones and the sheer exhaustion of everyone in question. The stormy weather we experienced Thursday delayed a few student's flights unfortunately, but everyone has arrived arrived safely as of Saturday (June 30th)! Our first jaunt of the ILE18 was out to Glendalough on Friday, straight away after we arrived at the airport with 13 of our 14 students. Unfortunately Ethyn's flight was delayed and rescheduled so he missed it. Our bus driver John was an absolute wizard at maneuvering around the pin sharp corners and avoiding the ever-present sheep in the road.
A few kids fell asleep on the drive over but everyone perked up with the promise of lunch and a fun walk. Glendalough is a scenic lake valley created by glacial ice thousands of years ago, leaving behind in its wake distinctive slopes and a wide distribution of unique stones. The path we took lead from the small visitor's center, through the ancient graveyard and monastic city with the 6th Century Round Tower, and into the forest until we had reached the rocky shores of the lake. The weather has been unseasonably warm and humid for the past week in Ireland and almost everyone we've met have started their conversations with this fact. So the kids were downright gleeful to chuck off their shoes and dash into the water to cool their toes (and dampen their pant legs).
We spent a beautiful half hour on the beach taking photos and relaxing. Then we headed back along the boardwalk that took us to the other edge of the woods, through a few scenic fields edged with foxgloves and wild roses. After that it was back onto the bus with John for the drive down to Waterford. We are currently staying at the Newtown Boarding School. The intent of this hike was to tire out the students so that they'd sleep well and dodge jet lag — but I dare say we succeeded a bit too well because many of them fell asleep on the bus again. After move-in, dinner and a few icebreakers, the students went to bed early. We can't say we blame them.
But Saturday, they experienced their first day of classes with our beloved Angie Mervyn, teacher extraordinaire. The subject was Irish Literature and they covered some of the earliest Celtic legends and authors, including Tir na nOg and Oliver Goldsmith. Bella said, "It definitely wasn't as boring as regular school."
Unfortunately, during the GAA workshop with Mark I was out refreshing my memory of the town (and picking up face paint for our activity Sunday…) so I could give a quick walking tour after our visit to Waterford Crystal, so I'll just have to trust what the students' said about it. Anna quipped that hurling required the hand-eye coordination that she didn't need to have for soccer. Haha!
After the GAA workshop and lunch, the students walked with us down to the famous Waterford Crystal factory and store where we watched demonstrations of glass blowing techniques and saw displays of the incredible craft Waterford. Joe volunteered to hold a lot of the examples we saw, including a football trophy and massive vase.
(I certainly hope that) the walking tour after the factory tour was great fun and we had just enough time to cover Reginald's tower, the Granville Hotel and Thomas Meagher, the waterfront and shipping on the Suir and the Cathedral of the Most Holy Trinity. Then the students had an hour of free time in Waterford.
That was also the first night of our culturally enriching dance and drama classes! Casey, our amazing Irish dance instructor, started the students off with the Walls of Limerick to warm them up. Then for drama, the students began writing limericks — or at least contemplating them. To wrap up a long and fast paced day, we slowed down to watch The Greatest Showman and drift off to sleep. Photos are coming soon, we promise! This is a great group of kids.