July 2017 - Page 2 of 2 - Irish Life Experience
Newtown Boarding School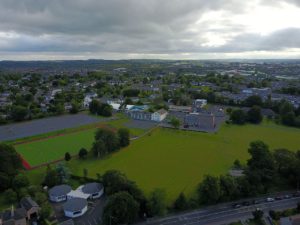 Counselor Tyler has been having quite a lot of fun getting aerial views of some beautiful areas in Ireland. We wanted to share with everyone how truly beautiful the campus of Newtown Boarding School is in Waterford. What a deadly shot!
Up the Deise!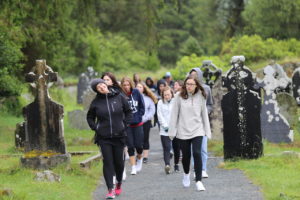 The wheels of the airplane came to a screeching halt and before the #ILE17 Group knew it, they were in Ireland on the morning of June 30th. Bright eyed and bushy tailed, they meandered through the halls of Dublin Airport until they came to Customs. After a few important questions, most of them received their first official stamp in their passports. The first of many-hopefully.
After the students had collected all of their bags, we exited out of Security and were greeted by Angie (Who is the Coordinator on the Irish side-teaches Irish literature, loves singing lullabies, and giving the students loads of sweets.) and Michael (Who teaches Irish and Irish American history.). Introductions were made and hugs were exchanged. Angie led the group outside to their chariot-a luxury Barton's Coach-that would bring them to Newtown Boarding School.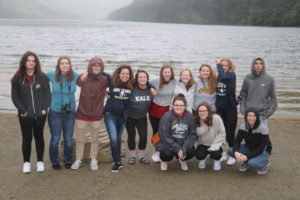 Waterford is about a 3 1/2 journey from Dublin, so the ILE headed to the first tour of the trip. Some couldn't wait to get some fresh air and stretch their legs after flying all night. Many were forcing themselves not to fall asleep, so a few started counting the sheep dotting the green rolling hillsides to distract themselves.
The first stop was Glendalough, in County Wicklow and in the thick of the Wicklow Mountains-one of Ireland's most beautiful destinations-according to many ILE alumni.
For thousands of years people have been drawn to "the valley of the two lakes" for its spectacular scenery, rich history, archaeology and abundant wildlife. Many say that Glendalough is a remarkable place that will still your mind, inspire your heart, and fill your soul.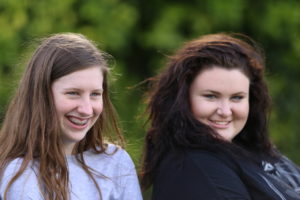 Glendalough is home to one of the most important monastic sites in Ireland. This early Christian monastic settlement was founded by St. Kevin in the 6th Century and from this developed a Monastic City.
The Monastic City consists of a number of remains and the most impressive being the Round Tower which stands almost 100 feet high. The grounds are entered through the Gateway, which has two round headed granite arches and then the main group of monastic buildings lies downstream near the Round Tower.
Beyond St. Mary's Church is the Priest's House, a 12th Century building in Romanesque style, with an interesting carving of a much earlier date on the lintel of the doorway.
Just beyond the Priest's House is a large granite Celtic cross and the Cathedral, the largest church on the site, with a nave, chancel and sacristy, and St. Kevin's Church.
St. Kevin's Church is commonly known as St. Kevin's Kitchen. This is a barrel-vaulted oratory of hard mica schist with a steeply pitched roof and a round tower belfry.
Michael did a great job pointing all of these points of interest out to the students and the most popular subject for pictures were the gorgeous Celtic crosses.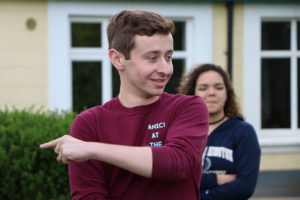 The group took a stroll to the Upper Lake and many were in shock when they saw whitecaps on the water and felt a chill in their bones with the frigid wind and typical Irish mist. They took a quick picture along the shores and then made the trek back to the Visitor Center. "You can never cross the ocean unless you have the courage to lose sight of the shore," Abby said. What an appropriate quote for the day!
Rose from New York looked a little concerned and asked if Ireland is always this cold. The ILE Staff assured her that she would definitely see at least a day or two (Maybe more.) of sunshine over the next few weeks. Fingers crossed;).
Once back at the Visitor Center, the group were treated to their first packed lunch of the program-complete with a piece of fruit, Taytos, a sandwich, and a Kit Kat. Yumzers! They then boarded the bus and headed south again straight to Waterford.
Once in Waterford (Up the Deise!), the group received a warm welcome to Newtown Boarding School from Scones, the Gaelic and Irish studies teacher. They were given a tour of campus and then got settled into their rooms and had the chance to freshen up with some not-so-warm showers. They were also given the opportunity to deposit money and passports into the Irish Life Experience Bank and then it was time for tea. Tea included a well balanced meal of pork, stuffing, and vegetables.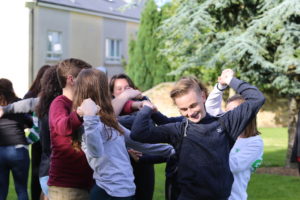 After letting their food digest, it was time for a few ice-breakers. The first ice-breaker consisted of students gathering in a circle and either left or right patting their shoulder in the direction the "pat" was directed in. If a student put one hand on top of the other, it would switch direction to the hand that was on the bottom. It was a game that required a lot of focus, so it was comical to see the students concentrating after their jet lag was setting in. It came down to Lauren from California and Counselor Casey, with Casey winning with a rock, paper, scissors shoot out.
The group was then split up into pairs and given a minute each to interview one another. After 2 minutes, everyone introduced their partner to the group. We learned some great facts about everyone… We found out that Bridget and Rose have the same birthday…, maybe because they are twins;). We also discovered that Brigid from Indiana is an Irish dancer, Scones tells only true stories, and Peirce loves theatre performance.
The final activity of the day was arranging the students into two circles and joining hands across from one another-to create essentially a human knot. They then raced around the clock to see if they could unravel themselves from the knotted mess without letting go of their grasps. Each team ended up having a win, so we called it a tie.
By the time 8:00 PM rolled around, the students were ready to hit the hay and crash for a much needed night of sleep! Their first day in Ireland had sadly come to an end.
Next Stop…, Ireland.
"Your feet will bring you where your heart is…" -Irish Proverb.
Thursday, June 29th, marked the exciting and long awaited #ILE17 departure day. Bags were packed, countdowns dwindled to "0," and nerves and anticipation were in the air. Students were looking forward and eager to embrace the special four week adventure that they were about to experience on the ol' sod.
The US #ILE17 Team of Taryn, Casey, Miles, and Tyler had meetings in the morning to get prepared for the journey. They headed to Boston Logan International Airport and met Hannah from Illinois. She was the first to arrive at 10:45 AM, followed by Peirce from Pennsylvania at 1:00 PM.
The group set up camp across from the Aer Lingus Ticket Counter and hunkered down for the long day. The ILE Staff would check in students as they came and give out the new #ILE17 t-shirts, colored in a nice maroon hue (Perfect Galway representation mind you.). Anna T. from Ohio was the next to arrive at the airport and then Abigail from Michigan. Students continued to trickle in for the next few hours with their families, while continually sharing "getting-to-know-you questions" with each other. They even filled their stomachs with some Chinese and Mexican food, Burger King, and caffeine from Dunkin' Donuts.
John Paul from Connecticut was the last student to arrive with his family and then the #ILE17 Group was complete with the American contingency. Taryn gathered the group and they decided to take a few traditional pictures-commemorating the momentous occasion of our exciting departure day. Then it was straight through to Security. Getting through TSA proved to be a little difficult when a few jars of American peanut butter were confiscated. Not naming any names… (Cough cough, Abigail and Lauren).
Once past Security, the group was able to spot our Aer Lingus 747 with the iconic three leaf clover on the tail-headed straight over the pond to the Emerald Isle. They made their way to Gate C21 and dialed a few last minute phone calls to friends and family, before filling their tummies with even more delicious American grub. Potbelly seemed to be a popular stop for some hot sandwiches with quite a few of students and staff.
The group boarded the plane, buckled their seat belts, and got settled in their seats for the evening. They turned on their in-flight entertainment and nestled in for the five and a half hour flight. Favorite movies for the voyage were Beauty and the Beast, Collateral Beauty, Hidden Figures, and Moana.
A meal was also served enroute and Garret said his pasta was scalding hot that he almost let out a piercing scream. He stifled it in, as he didn't want to wake up his fellow passengers in slumber, but said he definitely burnt his taste buds. He doesn't think he will be trying the airplane food on the return flight. Many of the students also caught up on some much needed shut eye, as they knew that it would help them with their jet lag the next day. About an hour before we landed, a glass of orange juice and a blueberry muffin were served for breakfast. All in all, it was a great start to the day and the flight was very smooth with friendly skies. Only a little turbulence at the end, which made Taryn happy, as she doesn't like to fly when it's bumpy.
About 8:15 AM Irish time, students were able to catch their first glimpses of the green patchwork quilt of fields on the island of Ireland. They were so thrilled to have done some epic time traveling and couldn't wait to see what the next day had in store for them.