February 2015 - Irish Life Experience
Top Ten Reasons to Study Abroad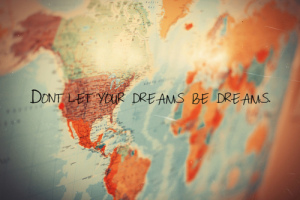 "The world is a book and those who do not travel read only one page." -St. Augustine
The Irish Life Experience is a life changing journey for many students. Studying abroad opens your eyes to different ways of life and promotes cultural understanding and tolerance. Research shows that students who study abroad have better grades, more confidence, and are more likely to graduate from high school and college at higher rates than those who do not study abroad. If you need a little convincing, here are our Top 10 Reasons to Study Abroad.
1. Explore Your Own Heritage
Students whose family heritage stems from other countries will often choose to explore their own ancestry and ethnicity. Students don't have to be of Irish descent to participate in the Irish Life Experience. However, students with a strong familial connection to Ireland, will grow both academically and personally. They will gain a new appreciation for their roots that they will be able to share with others when they return home. This is one of the many reasons to study abroad.
2. Experience a Foreign Culture
One of the important reasons to study abroad is that it will allow you to get to know another culture firsthand. Cultural differences are more than just appearances, food, language, and personal habits. A culture reflects beliefs, perceptions, and values that influence their way of life and how they view the world. Students who experience a foreign culture personally will come to truly understand where other cultures are coming from and have a greater appreciation for their own surroundings.
3. Become More Independent
It truly is a great way for you to learn how to become more independent, before you venture off to college or the real world. The Irish Life Experience believes in giving students the perfect balance of freedom and supervision. Maturing is simply a natural growth process of the program and another one of the valued reasons to study abroad.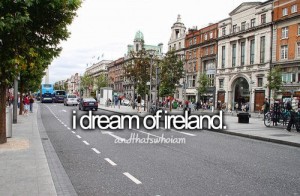 4. Expand Your Worldview
The Irish Life Experience will help you gain perspectives on things you normally wouldn't have. One of the reasons to study abroad is that when you return home, your worldview will be more informed and you will have a much less biased perspective toward other cultures and people.
5. Communicate Across Cultures
In today's increasingly global society, it's important to possess skills to communicate across cultures-and this means understanding more than just a different language. The Irish Life Experience will help you become familiar with the customs and traditions of Ireland, in addition to an introduction of Gaelic. By interacting with locals, you can develop an appreciation for the culture and its differences from your own, which makes this one of the important reasons to study abroad.
6. Enrich Your Education
The Irish Life Experience will help you develop skills and give you experiences a classroom setting will never provide. Being immersed in an entirely new cultural setting is scary at first, but it's also extremely exciting. It's an opportunity to discover new abilities, strengths, conquer new challenges, and solve new problems. You will encounter situations that are unfamiliar to you and will learn to adapt and respond in effective ways. One of greatest reasons to study abroad is that it will make you richer-mentally.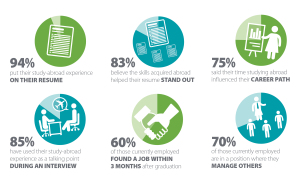 7. Discover Your Passions
Being pushed beyond your comfort zone will allow you to realize what is truly important to you. Many students become compliant in their lives. The Irish Life Experience will give you a chance to be reborn into what matters most to you and this is yet another one of the many reasons to study abroad.
"Wanderlust-An irresistible desire to travel and to understand one's very existence."
8. Develop Lifelong Connections
The Irish Life Experience will give you the opportunity to make friends from around the world. While in Ireland, you will meet not only natives to the culture in which you are studying, but also other international students who are as far from home as yourself. You will create lifelong bonds with cherished friends and experience memories with each other that are unforgettable. This is one of the most treasured reasons to study abroad.
9. Enhance Your Resume
Only 4% of US students study abroad. Through an employer's eyes, a student who has studied abroad is self-motivated, independent, willing to embrace challenges, and able to cope with diverse problems and situations. Your experience living and studying in Ireland and learning about another culture will make your resume stand out in a stack of thousands. Impressing colleges and employers is one of the key reasons to study abroad.

10. Live the Dream When You Are Young
When you get older, get a job, and settle down, you will realize how important it was for you to study abroad when you were younger. Many adults will never have the privilege to see the world. What better time then now to take advantage of an an incredible opportunity, explore a new country, take classes and learn the culture and traditions of Ireland, and live with your peers for half the cost during a magical summer called the Irish Life Experience.
Did we give you enough reasons to study abroad? What are you waiting for? APPLY NOW and give us a reason why you shouldn't study abroad. …If you can.