July 2013 - Page 2 of 2 - Irish Life Experience
Happy 4th of July!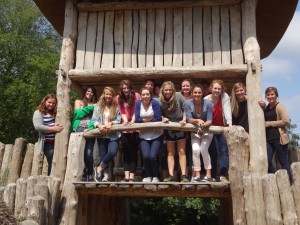 Today was a spectacular day and a lesson in Irish history, as we went to Wexford to visit the Irish National Heritage Park in Ferrycarrig. It is a place where Ireland's heritage comes alive with sights and sounds that shaped the country and helped to shape the world.
More than any other country in Europe, Ireland is dotted with material reminders of its past. However, few people apart from specialists can visualize what these remains were like in their original state. This is the purpose of the Irish National Heritage Park-to show how people lived, worshipped, and buried their dead-from the coming of man to this island until the arrival of the Normans in the 12th Century.
The park we toured is an authentic recreation of Ireland's heritage. Homesteads, places of ritual, burial modes and long forgotten remains enlightened us all on the early people of Ireland. Its history is presented in a unique and magical way as the history of Irish life of 9,000 years unfolded before us-from Stone Age, to Christianity conversion, to Viking invasion.
Close to the end of our journey through history, we stopped to learn a way the early Irish fed great crowds of people. They had an in ground pit of water that is heated by throwing rocks into it from the fire until it starts to boil. This is called a Fulacht Fiadhin. To boil the meat (Typically pig.), it is wrapped in straw, and this was just the surprise that was waiting for us around the corner. Our tour guide-dressed in a full Bronze Age costume-had a current slab of ham cooking for us all to feast upon. He pulled if from the boiling pit with a pitch fork and cut if free from the straw. He then sliced it all up and we gathered around for a sample. It was quite delicious and several went back for seconds. Yumzers! Caroline even said it was some of the best food she has had yet!
Afterwards, on the way back to Newtown we had a quick stop in New Ross in County Wexford. This is the town where John F. Kennedy made his memorable speech to the Irish people on June 27th, 1963. This year marked the 50th anniversary of his visit and the town was bustling with excitement for the 4th of July, while American flags lined the town's streets.
The ILE ate their packed lunch, walked along the quay to see the statue of JFK memorializing his trip to Ireland, and took pictures of the Emigrant Flame. On June 18th, a torch was lit at the graveside of President Kennedy in Arlington National Cemetery and made the journey to New Ross in County Wexford. Symbolizing the immigration route taken by JFK's great grandfather through Boston, Liverpool, and eventually New Ross for the ignition on June 22nd by his sister Jean Kennedy Smith (US Ambassador to Ireland in the 1990's.).
The ILE eventually made their way back to Newtown Boarding School where we had some American comfort food of hamburgers and hotdogs to celebrate our holiday. The ILE Team then had some fun activities planned for the students-the Counselor Olympics. Complete with a human tic tac toe game, (Six chairs are set up in a grid and the students are numbered in two teams. When a number is randomly called, the student with that number from each team has to dash to a seat and sit while making either an X or and O above their head. Needless to say, it got a little ruthless.), an egg and spoon, leap frog, Life Saver and toothpick, sack, and wheel barrow race. Jimmy and Gru proved to have excellent leap frog skills and formed quite the unstoppable team. The kids had great fun.
Even though there weren't any fireworks or sparklers, we had an ILE party to cap off the evening. Dominos, pop, loads of candy, and the movie-Pitch Perfect. Peanut Paddy said he loved the delicious pizza and thought it was an epic 4th of July celebration had by all.
By 11:30 PM, all of the students were exhausted from the busy day and were sound asleep in their beds by midnight.
Happy days!

Life is Good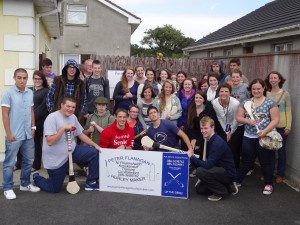 Early to rise and shine, as the students started out the morning with a breakfast of cereal, oatmeal, tea, and toast. Dee-lish!
Classes today consisted of Dan's Irish history class-learning about the Normans, Strongbow, and Irish plantations. He also shared the history of Cahir and Kilkenny Castle and prepped the students for the next day's tour.
In Gaelic, Scones taught the students numbers in Irish and started playing a game where they had to arrange themselves in order of their age and birthdate. She then spiced things up and gave them a different age and birthdate, which was very challenging for them. However, they all rocked it out and lined up with few mistakes. She was very impressed by how quickly they are picking up the basics of the language.
In Irish studies, Taryn gave a basic introduction into Genealogy and found all of the students' coat of arms and a short history of their family names. Megan couldn't wait, as she was very interested in learning about her families' roots and where they originated from in Ireland. Taryn even found Jaiden's (German), Marco's (Italian), and Nacho's (Spanish) family history.
The rest of the afternoon seemed to revolve around the students learning a traditional Irish sport; hurling (Not to be confused with what you do when you are sick.).
To start out our afternoon tour, the students went to Peter Flannigan's home in Waterford; one of the finest hurley makers in Ireland. He spoke to them about how the hurley was made and about the game. They then had the opportunity to purchase their own hurleys and sliotars. Chris, Evan, Gru, Riley, and Tiernan all took advantage of the unique opportunity and invested in their very own hurley. I'm sure they will be trying to teach this amazing sport to some of their family members when they return home. Get ready for some fun lessons. Some of the girls also decided to buy hurleys-however, small ones for souvenirs. Jaime and Katie thought it would be a great idea for all of the students to sign them and take them back as momento of this summer's group.
It was a beautiful day, so after our visit to Peter Flannigan's home, we decided to go to Tramore. Tramore is a beach town with a fun fair running along the water. Just like the Jersey Shore. The students couldn't wait to experience a dip in the ocean and let out some screams on the upside down rides. "There's a beach and a carnival? Life is good," said Gru. Clara was also ecstatic as it was her first time ever seeing and swimming in the ocean. She and Melanie were the first to race down to the water and jump in the crashing waves. They were only able to stand the water for about two minutes, as the Irish ocean is not known for being very warm.
Many of the other students had fun going on roller coasters, eating candy floss, and getting some rays on the beach. Taryn even went on the Dominator with Caroline (Carl), Gru, and Sarah A. My oh my, was that a mistake. The Dominator is a five minute ride that spins upside down and whips you back and forth at high speeds. Taryn thought she was going to toss her cookies and was yelling out expletives the entire time. Sorry parents. Never again! She should have gone on the bumper cars with Clara, Katie, and Mel!
After our fill of Tramore, we headed back to Newtown Boarding School for dinner and a GAA (Gaelic Athletic Association) Hurling Workshop from one of the Irish Life Experience's good friends-Mark Cooney. Mark is a coach for the Waterford GAA teams and has been coming out and teaching Gaelic football and hurling to our students for the past ten years. He brought Trish Jackman to help-one of the best Camogie (Women's hurling.) players in all of Ireland. What a treat!
Hurling is an outdoor game of ancient Gaelic origin. The object of the game is for players to use a stick made from ash wood (The hurley.) to hit a small ball called a sliotar between the opponents' goalposts either over the crossbar for one point, or under the crossbar into a net guarded by a goalkeeper for one goal, which is equivalent to three points. The sliotar can be caught in the hand and carried for not more than four steps, struck in the air, or struck on the ground with the hurley. It can be kicked or slapped with an open hand (The hand pass.) for short-range passing. A player who wants to carry the ball for more than four steps has to bounce or balance the sliotar on the end of the stick and the ball can only be handled twice while in their possession.
Mark and Trish taught the students basic drills and methods of the sport. They were very impressed with the athleticism of the students. Evan, Marco, Nacho, and Riley excelled very quickly and Mark said they were naturals. They even had a friendly competition for a puc fada (Long shot for the sliotar.). Jaiden and Katie won for the girls and Miles won for the boys. They all won souvenir sliotars. It was great to see the students so enthused about the sport and Sarah B. said she can't wait to see the Leinster Finals at Croke Park for hurling!
Afterwards, the students participated in Aubrey's Waterford Scavenger Hunt. Students were split up into teams and had to find and take pictures of certain things around town. An American flag, Bishop's Palace, a place to eat fish and chips, postcards, someone walking their dog… The students were amazing and the Fire Warriors of Eddie (The Newtown Boarding School's Caretaker's son.), Ellie, Emily H., Kate, Melanie, and Sarah C. ended up finding everything in the shortest amount of time. They won and were presented with Waterford flags! Ellie said she had a lot of fun, but was very tired from running around everywhere.
The students were exhausted, so many relaxed around campus, watched a movie, or wrote in their journals for the rest of the evening.
To echo in Gru's words…, life is definitely good!
The Real Capital
We had an early start this morning for our first long road trip of the tour. And what a place to visit–Cork, home of Michael Collins, Henry Ford, and Shona "Sconees" Linehan. Legends all.
Our first stop was Kinsale harbour, where we emerged out of the mist to storm Charles Fort. This is a massive 12 acre Citadel used to defend the South of Ireland from the sea. Unfortunately, the only time it was attacked was from the land and the defenders capitulated pitifully. Possibly because they had no gunpowder, but 40 tonnes of wine in the magazine.
The weather cleared up enough for everyone to enjoy a stroll around picturesque Kinsale, the Gourmet Capital of Ireland. Fortified by some top notch seafood, Gru and Ignacio-AKA Nacho-did some heavy lifting to help Tom, our bus driver, make a pretty tight (And not very legal.) U-turn. From there it was onwards to Cork City, by the banks of my own lovely Lee.
Just before we parked the bus, Scones showed everyone the Elysian–Ireland's tallest building. The kids had three hours to explore the island's second biggest city. Not nearly enough time to see all the chips on the shoulder but still plenty of fun. The girls in particular enjoyed the shopping while anyone who wandered up to the famous English Market would have been well fed.
There were some pretty sleepy heads on the bus home, so we stopped in Youghal-location of the filming of movie Moby Dick and former home of Sir Walter Raleigh, the man who introduced the potato into Ireland. Thanks Walter. Ellie won the prize of a 99 for being able to pronounce "Youghal," probably despite Marco's best efforts.
When we got back to Waterford, Scones made a desperate attempt to introduce Gaelic Football to the group. Yikes! Looks like tomorrow's GAA will be a barrel of laughs. In Seth's words "I'm tired, I'm going to bed."
It's "Y'All" by the way, which came as a surprise to the Southerners on the trip.
Oh My My My, Oh My My My, Oh My My My July!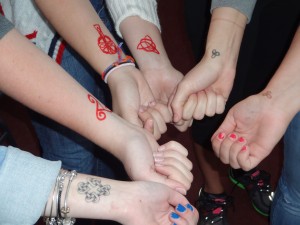 And what a way to start to lovely July–the kids had their first history class with Dan, where they learned that Barack O'Bama was from Co Offaly, which explained why his family were at Glendalough last week. The kids also learned about the wonders of Newgrange and the sacred Book of Kells. And, hopefully, they will now understand why their classes are called Cúchulainn and Fionn MacCumhaill.
In Gaelic with Scones, the kids practiced pronouncing their names in Irish. Scones is amazed at how quickly the students are picking up the language. She will have recordings of the most fluent speakers posted online by the end of the trip. Provided they work hard on their dance steps, that is.
Irish studies class with Taryn was slightly abbreviated today because of our trip to the Waterford Crystal Factory, but the students did manage to identify the provinces in Ireland and the 32 counties.
After a quick and early lunch the kids were blown away by what they saw at the famous Waterford Crystal Factory. Everyone had a smashing time, (Little joke there, keep up down the back.) especially Kayla who said that it was her favorite moment of the trip so far.
After the tour of the crystal factory, some of the kids enjoyed free time in Waterford, while the rest enjoyed our first afternoon of workshops. Scones kicked off our series of workshops-appropriately enough with scone making. We already have an order in from the PSNI riot squad for a batch so that they can use them in training. Apparently an oven issue. At least the guys learned that scones should not be made in triangles. Or in the shape of a map of Ireland.
Following Scones' scones, Aubrey put on the Celtic "Not Really Tattoos" Workshop. Aubrey was impressed by the kids lack of inhibitions. Some of them even turned out "pretty cool" as you can see from the pictures.
Dinner was great-fresh cod with mash and lots of veg-followed by chocolate muffins. This gave most of the kids the energy they needed for another epic game of soccer where Gru's goalkeeping was the stand-out feature of the game. Also, the least co-ordinated kid on the trip scored a goal. And if he doesn't pay me a hefty bribe I will name him.
By the time we had finished the soccer match, everyone was completely bushed and ready for a nice early night before the excitement of tomorrow's trip to the People's Republic.
Harlem Shakin' in Waterford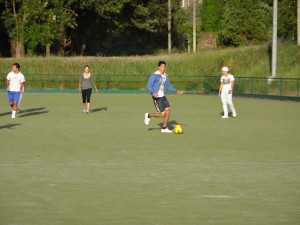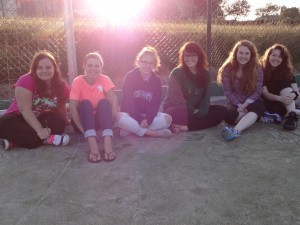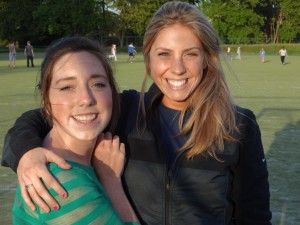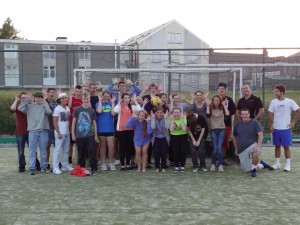 The ILE students woke up bright and early for their first class day. They showered, ate their breakfast of cereal, oatmeal, toast, and tea. Then they were split into two different classes of 15 students-Cuchulainn and Fionn mac Cumhaill (Famous Irish legends that Dan thought would be fun to hear the students pronounce.) for Gaelic, Irish American history, Irish history, Irish studies, and literature.
Today's schedule was a little unique, as Dan had to drive back to Dublin to pick up poor Megan, who had missed the flight the previous night. So the students had two classes of Gaelic, two classes of literature, and one class of Irish studies.
Cuchulainn's Class had Scones for Gaelic first and translated their names into Irish.
Marco Bilato-Marcas De Bláca
Kayla Corrigan-Cáit Ní Choraillaigh
Emily Herrmann-Emíle hIarnáin
Emily-Kincaid-Éibhlín Cinnicéid
James Lynde-Seamus Ó Loinn
Devin Maloughney-Daibhín Ó Maolfhachtna
Riley Mullen0Raighailligh Ó Maoláin
Erica Nelson-Erin
Reilly Pitzer-Raighailligh Ó Phitsaor
Seth Powers-Saibh De Paor
Ignacio Quintana-Ignacio
Taryn Sneed-Taristeach Glicín
Jaiden Toth-Sinead
Megan Vancil-Meágaín
Melanie Vecchia-Spooner-Méalaon
At the same time as Cuchulainn's Gaelic Class, Angie taught Fionn mac Cumhaill's Class Irish literature. Angie shared the history of Irish literature with the ILE'ers and then read a story by Frank O'Connor to them. Kate L. loves everything Shakespeare, so she is very intrigued. "I find this class fascinating," she said.
After 45 minutes, Angie and Scones switched classrooms and taught the different class the same subject.
Scones continued to translate names into Irish for Fionn mac Cumhaill's Class.
Sarah Augsbach-Sorcha Ní Aiséir
Clara Bohlin-Cláir Ní Baoill
Emily Bryan-Emíle Ní Bhriain
Sarah Bryan-Sorcha Ní Bhriain
Caroline Buchanan-Cearulín Ní Bhuacháin
Kathleen Clifford-Cáitlín Ní Seifeard
Evan Connelly-Éabhán Mac Glicín
Sarah Cranney-Sorcha Ní Cearrúnach
Tiernan Goodfellow-Tiarnán Mag Uiginn
Amanda Harrod-Éibhlinn Haróid
Patrick Kane-Padráig Ó Catháin
Kate Lanagan-Cáitlín Ní Lonagáin
Katie Robbins-Cáit Mac Roibín
Christopher Robinson-Críostoir Mac Roibín
Jaime Walsh-Séamí Ní Bhreathnach
They then had a quick break and went into Gaelic and Irish literature class for a second time.
Scones taught Cuculainn how to say Hi! (Dia Duit!), How are you? (Conas ata tu?), My name is__________. (__________is anim dom.), and What is your name? (Cad is anim duit?). Afterwards, they had conversations with each other using the Gaelic they had just learned, so it was great practice for them.
Fionn mac Cumhaill's Class learned about WB Yeats' life from Angie and they read some of his works.
The last class of the day was Taryn's Irish studies and they learned about the Geography and Geology of Ireland. Quite a few students decided to leave class a little early with Aubrey and go an Irish Mass. "I couldn't believe how fast Mass was!," said Amanda.
The students then had lunch, before they were allowed free time on their inaugural trek into Waterford. Dan and Scones gave the students a quick walking tour of the town, pointing out places of interest.
Katie R. said she loved scoping out the shops in Waterford and can't wait to use her Penney's Gift Card from her sister Felicia. She said, "Cool, wow, awesome, I'm excited."
The rest of the afternoon was spent relaxing on Newtown Boarding School's Campus-playing Head's Up and doing impromptu Harlem Shakes. What a blast we had!
After dinner, the evening was occupied by drama with Aubrey and Miles and dance with Scones. In drama, students were split into four groups and assigned historical Irish figures. Their first assignment this week is to write a limerick on their Irish figure-AABBA rhythm. It will be interesting to hear them on Friday:). The winners will be posted on the blog.
In dance, Scones worked with the students on the basic 1, 2, 3's and 7's. Seth said he can't wait to learn a few jigs and reels and bring them back to Montana.
It was a busy day and we decided to end it with a great game of soccer in which everyone participated-either playing or cheering. Dan said he saw some impeccable goal keeping from Devin (AKA Gru) and Mel. The ILE'ers had a blast and capped off the night with the Inbetweeners' movie. What a great day!
The Craic Begins
Hello ILE Families and Friends,
On Friday, June 28th, 30 high school students from 16 different US states, Italy, and Spain embarked on an amazing journey…, the Irish Life Experience.
Clara and Kate L. from Illinois were the first students to arrive JFK International Airport in the morning. They were met by ILE Staff-Aubrey, Miles, and Taryn-where the Team set up check-in and began to meet students from connecting flights. Evan, from Alaska, was the next student to join the slowly building group. Followed by Devin and Seth from Montana, Kate R. from Ohio, Emily B. and Sarah B. from Georgia, Amanda and Jaiden from Montana, Sarah C. from Massachusetts, and Ellie from North Carolina. Students from surrounding areas slowly trickled in throughout the day, so many got to know one another while enjoying donuts and coffee from Dunkin and waiting for the 9:15 PM Aer Lingus flight to Dublin. It was Amanda's first time flying and she exclaimed, "Flying is fun and it isn't as bad as I thought it would be!"
Unfortunately, due to stormy weather moving up the East Coast, many students' flights were delayed-turning a very quiet departure day into a manic evening.
At 7:30 PM, the majority of students gathered together to take a group picture before going through Security. However, Caroline from South Carolina and Jimmy from California were still in the air and were due to touch down with only a few minutes to spare, while Megan from Missouri was grounded in DC. Caroline and Jimmy eventually arrived and were escorted with Aubrey through Security-sprinting to catch the flight to the Emerald Isle. Holy guacamole-it was a close call. Taryn was sweating bullets for awhile. Sadly, Megan missed her flight and would have to stay in DC to catch the next day's flight to Ireland and connect with the group in Waterford.
The 5 hour and 40 minute flight flew by, while students ate dinner and were entertained with games and movies in their seats. Many tried to get some much-needed shut-eye, as they were exhausted from the day of excitement and traveling.
After the wheels touched down on the Dublin tarmac, the students cleared Custom's and collected their bags. They were met by Angie, Dan, and Shona (Scones); our amazing ILE teachers. Following quick introductions, Angie and Scones led the students to the bus and set off for Waterford, while Dan waited for Ignacio from Spain and Marco from Italy to arrive on later flights.
To break up the trip, the Irish Life Experience stopped at Glendalough (Valley of the Two Lakes) in the Wicklow Mountains for a packed lunch of crisps, fruit, sandwiches, and sweets. Glendalough is one of the most beautiful corners of the whole country and the epitome of the kind of rugged, romantic, Ireland that draws people to Ireland. Jaime from New York recognized the scenery from the movie, PS, I Love You and was estactic to see it in person.
In AD 498 a young monk name Kevin, arrived in the valley looking for somewhere to kick back, meditate and be at one with nature. He pitched up in what had been a Bronze Age Tomb on the southern side of the Upper Lake and for the next seven years slept on stones, wore animal skins, maintained a near starvation diet and-according to legend-became bosom buddies with the birds and animals. Kevin's eco-friendly lifestyle soon attracted a bunch of disciples, all seemingly unaware of the irony that they were flocking to hang out with a hermit who wanted to live as far away from the other people as possible. Over the next couple of centuries his one-man operation mushroomed into a proper settlement and by the 9th Century , Glendalough rivaled Clonmacnoise as the island's premier monastic city. Thousands of students studied and lived in a thriving community that was spread over a considerable area.
Inevitably, Glendalough's success made it a key target for Viking raiders , who sacked the monastery at least four times between 775 and 1071. The final blows came in 1398, when English forces from Dublin almost destroyed it. Efforts were made to rebuild and some life lingered on here as late as the 17th Century when, under renewed repression, the monastery finally died.
So, following in the footsteps of Michelle, Malia, and Sasha Obama from the week before, Scones gave a fantastic tour of the historical grounds. She pointed out the round tower, significant Celtic crosses, and remnants of churches. Students stretched their legs and got some fresh air on a beautiful walk to the Upper Lake. Tucked in by a deep valley and surrounded by a towering forest, the ILE took pictures and felt the frigid water. Evan said it is a very tranquil and spiritual place and you would have little difficulty in understanding why the solitude-seeking monks lived there.

After the leisurely stroll around the lake, the students got back on the bus and continued on their journey to Waterford. Once they arrived, they got their bags and moved into their dorm rooms for the next week. They deposited their passports, money, and had tea, before they were given a tour of campus and an orientation for the program.
To help the students acclimate to the local time, the ILE Team kept the students awake until 9 PM with a few thrilling ice-breakers. Erica from Pennsylvania was extremely tired, but said she enjoyed learning random facts about her peers, playing two truths and a lie, and trying to untangle their human knot!
Eventually, it was time to retire to bed and get ready for their first class day. Oiche Mhaith-Good Night from Waterford!